Is The Dell Adamo Aiming at the MacBook Air?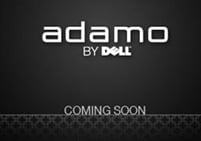 Are you awake? Well, according to Dell Spokesman Bob Kaufman the on again/off again teaser ad artwork that we've been seeing for the rumored Dell Adamo was intended to send the computer folks a wake cup call:
""We did this to wake up the personal computing category and create some buzz"
The ad ran in Uptown Life and then was removed and the speculation started. Ashlee Vance of the New York Times Bits blog has been all over the story and managed to get the quote above out of Mr. Kaufman. Supposedly the Adamo is a MacBook Air competitor and word is Dell will be showing this off at CES 2009.
While the didn't run out the saw on this one, let's hope Dell does better with this kind of teaser and expectation game then they did with the Latitude XT Tablet PC. They raised expectations and then failed to deliver, except on price point where they raised more eyebrows than expectations with such a high price tag. But then if they are going after the MacBook Air, high prices for low performance shouldn't be an issue now should it?

As an Amazon Associate I earn from qualifying purchases.