Is the iPad Raising Awareness of Tablet PCs?
When the iPad was officially announced back in January a lot of us speculated that it would drive awareness of Tablet PCs. While the success of the iPad has kicked development of consumer slates into high gear, it hasn't resulted in a lot more people seeking information about Tablet PCs. There's still only one Tablet PC available at Best Buy, North America's largest electronics retailer, and consumers seem to think that Apple invented the slate form factor.
Tablet PCs are awesome tools, especially for those who work on their feet or use pen-optimized software. But just because something's good doesn't mean companies will market them to the masses.
The TouchSmart tm2 is pretty much the only Tablet PC most consumers will ever have a chance to touch and play with before buying. But at $949 at Best Buy (and about the same on Amazon), it's a tough sell to a student/parent that's not familiar with Tablet PCs. There are plenty of sub $700 notebooks on the market with more impressive specs (drive, processor, battery life, etc.) that are sold by the truckload.
Most of the blue shirts selling PCs have probably never used a Tablet PC and the ones I've spoken to about the tm2 don't seem to enthusiastic. During a recent visit to Best Buy, I asked a couple of Best Buy employees if they recommended the tm2. One of them responded that he recommended 'Apple's version' and it was half the price. The other explained that it didn't do anything special except for 'folding in half so you can read web pages better.' The advantages of Tablet PCs are clearly not being communicated by Microsoft, HP, etc. to retail associates.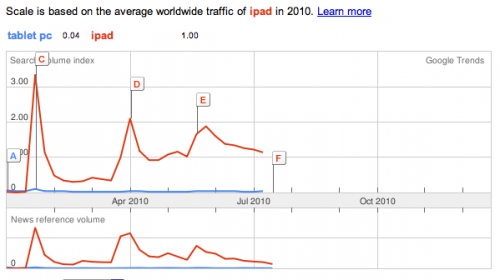 The above chart from Google Trends illustrates the fact that about the same number of people are searching for information about Tablet PCs today as they were seven months ago. Google Trends reports similar results when you swap out 'Tablet PC' for product names. The iPad is doing a lot of things, but it's not driving consumers to go seek information about Tablet PCs.
As we've mentioned countless times here at GBM, Tablet PCs really shine in specific use cases. But the average consumer is completely unaware of Microsoft's efforts with the form factor. I have a feeling that convertible Tablet PCs will get even less mindshare once HP and others start pushing their consumer slates later this year.
So what do you think? Is the iPad raising awareness of the Tablet PC form factor where you live and work? I think Microsoft and its partners are missing out on an opportunity to push tablets as people are discovering the iPad.