Is the Paperback Era Coming to an End?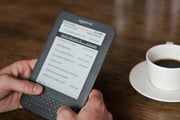 Amazon already sells more eBooks than hardcover books and is predicting that it will sell more digital books than paperbacks by the end of next year. That's a pretty bold prediction, but not all that surprising considering how easy it is to buy books on so many devices. Is 2011 really going to mark the end of the paperback era?
It certainly seems Amazon's in a hurry to get out of the physical book business. The cost of importing, warehousing and shipping books is certainly a burden Amazon would rather avoid. As eBooks gain popularity prices will come down. In an interview with Pocketlint, Amazon's Steve Kessel said:
"All ebooks will cost less than the physical books. Customers believe that electronic books should be cheaper than physical books and we agree."
So what do you think? Is it time for paperbacks to go the way of newspaper subscriptions? Or do you prefer keeping books on your bookshelf and stacked in the attic?

This article may contain affiliate links. Click here for more details.