Is the Surface 2 Worth Buying?
A lot of the tablets and consumer devices that users love are about to go on sale thanks to Black Friday 2014. One of them is Microsoft's Surface 2 tablet.
Originally unveiled in 2013, the Surface 2 is Microsoft's answer to Apple's iPad and high-end tablets running Google's Android operating system. It's Microsoft's second attempt at creating a tablet that gets great battery life and has a viable application platform. Instead of focusing on entertainment, Microsoft designed the Surface 2 with both productivity and entertainment in mind.
With all the deals coming on the Surface 2 – Best Buy will offer it for $299 soon – it's understandable that a lot of users are thinking critically about whether the Surface 2 is worth buying this holiday season. Is the Surface 2 worth buying now? Yes and no.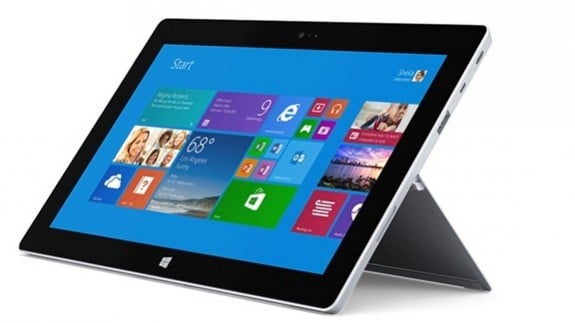 Read: Best Buy Black Friday 2014 Ad & Details Arrive
Whether buying Microsoft's tablet is a good idea comes down to what you're looking for in a tablet and how the features included in the Surface 2 help you achieve that.
Though they look similar, the Surface 2 isn't to be confused with the Surface Pro 3. They have some of the same features. There's a long port that lets buyers attach a Surface Type, Surface Touch, or Surface Power Keyboard. These keyboards provide buyers with a notebook like experience. On its side edges are a full-size USB port, a power port and a display port. In these ways, the Surface 2 and the Surface Pro 3 are just alike.
Read: iPad Air 2 vs Surface 2: Which to Buy
Where the Surface 2 and the Surface Pro 3 diverge are in the key details. Inside the Surface 2 is an Nvidia processor. This processor allows users to get 10 hours of battery life on the Surface 2. This difference is important because though it does allow the tablet to get longer battery life than tablets with Intel processors, it also means users can't install Desktop apps like iTunes. And that's where those expectations come in.
The Surface 2's 10-inch display, 32GB of storage, external media card support and the external keyboard support give it an air of productivity, but it's only as productive as the apps you're allowed to install. Microsoft includes Desktop versions of Word, Excel, Power Point, Outlook and OneNote. The Desktop version of Internet Explorer is around too. Surface 2 buyers can be productive as long as they depend on those apps or a web app through Internet Explorer. Anything outside of those two areas is out of the question.
This gets at the other core issue with the Surface 2. The Windows Store hurts the Surface 2 in ways that aren't apparent before you purchase it. There are tons of first-party well-made apps in the Windows Store. Netflix and Hulu both have apps on the platform. So too do a growing number of other entertainment companies. Windows Store apps don't often get productivity correct. For some apps it's just a problem with their interface. Other apps simply don't support being snapped to the side of our screen. There are a lot of high-quality apps, but they are hidden by some pretty bad apps in the Windows Store. This problem isn't unique to the Surface 2. Android and Windows Phone have this problem too. Still, it's worth noting.
Read: Microsoft Surface 2 Review: Less Confusing and More Viable
I know that sounds like a lot of negatives, but there are definitely some positives too.
That copy of Desktop Microsoft Office isn't a yearly subscription. It's permanently installed on the tablet at no extra charge. Windows 8.1 is the most mobile friendly version of Windows there has ever been. Users can live inside it's full-screen environment just fine.
The processor inside the Surface 2 completely beats what was included in the original Surface by a pretty wide margin. Its 10.1-inch screen is pretty gorgeous when you're watching high-definition content and watching that content comfortably  is pretty easy because there's a two-step kickstand that extends from the back of Surface 2.  Watching movies on an airplane tray table or your lap has never been easier than it is with the Surface 2.
The Surface 2's full-size USB is a god send for those who like accessories and don't like hassle. Printing from a Surface 2 is as simple as plugging in the printer to the USB port. Games can be played with an Xbox One or Xbox 360 controller.
Let's not forget that buyers are getting a better deal with the Surface 2 than they are with the iPad Air 2. iPad Air 2 buyers are getting 16GB of storage without the option to add more for $499. Surface 2 buyers get 32GB of storage and a microSD card slot that'll help boost its capacity even further than the iPad Air 2. What's more, the Surface 2's regular price is $449. That's $50 less than where the iPad Air 2 starts. That price doesn't include the device's keyboard covers. Those start at an extra $119. They aren't necessarily needed for those looking at the Surface 2 for pure entertainment purchases.
The Surface 2 is definitely worth buying, but know what you're getting into before you do so. The Surface 2 is a great way to get some light productivity in, but really it's meant as an entertainment tablet with a few extras.

As an Amazon Associate I earn from qualifying purchases.