Is This a First? New Rock Center News Magazine Launches iPad App as Part of Show Launch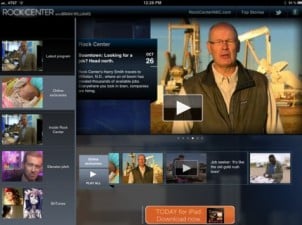 Is this a first? I think it may be. NBC is launching a new TV magazine (think 60 Minutes) called Rock Center tonight. As a part of the hype NBC is also rolling out a new iPad App to accompany the launch.
The App won't allow you to watch full episodes but it does promise clips and "exclusive" web content as well as social media interaction with the correspondents and team behind the show. It also says archives will be available for viewing.
Like I said, this may be a first in terms of the timing of an App rolling out alongside of the program it parallels. If so, then I guess that's what we call progress.

As an Amazon Associate I earn from qualifying purchases.