Is This The Controller for Amazon's New Set-Top Box?
Pictures of an Amazon branded wireless controller seem to confirm what many had already suspected: Amazon, makers of the Kindle Fire, are gearing up to introduce a living room set-top box that allows users to stream their content and play games.
The images, were a part of a filing with the Angencia Nacional de Telecomunicacoes found by Zatz Not Funny. That's the Brazilian version of the Federal Communications Commission that governs digital technology here in the United States.
The pictures reveal a controller that's clearly taken inspiration from Microsoft's Xbox 360 controller and possibly the controller that OnLive subscribers use to connected with that service's mini-console. There's a directional-pad that's flanked by a joystick. Sitting above those controls are a joystick on the left and the AXBY buttons in a triangular formation. The top-edge of the device has two bumpers and two triggers.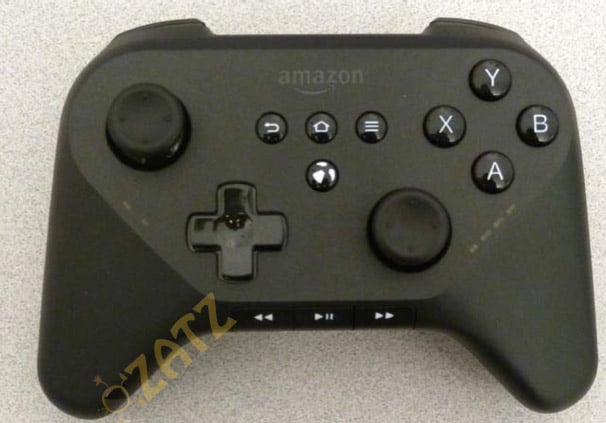 The most interesting thing in these pictures are the buttons that sit in the controller's center. They're unapologetically inspired by Google's Android operating system. There's one for back, a home button in the center and a menu button on the right.
The controller also includes music playback buttons on its bottom edge so that users will, presumably, have the option to play back music stored in Amazon's MP3 service. We know that this is a gaming controller backed by Amazon's own services and not some random Bluetooth controller because of the button at the very center of the device. It matches the logo that Amazon uses for GameCircle, a system of online achievements and cloud saves that's not completely un-like Microsoft's Xbox Live or Sony's PlayStation Network.
At this time it seems very likely that the controller will connect to the Amazon set-top box that was rumored before the holidays last year. More recently, rumors indicated that the company was also working on a Kindle Gaming console. Whether these devices are one in the same remains a mystery.
However, it is clear that Amazon is preparing to launch a product in the living room. Just last month Amazon announced that it'd purchased Double Helix, a major gaming studio that had just wrapped up development for Killer Instinct, a launch title for the Xbox One.
Read: Amazon Buys Major Game Studio, Adds Fuel to Console Rumor Flames
There's no word on a release date for the Amazon set-top box. Most industry insiders are now pointing to an imminent announcement.