Is This the MeeGo-Powered Nokia Tablet Phone?
With rumors that Nokia will be announcing its first MeeGo-powered smartphone, which has been referred to as the Nokia N9 on the Internet so far, at Mobile World Congress, we are now glimpsing an image of what is believed to be Nokia's 4.5-inch tablet/smartphone hybrid. Previous leaks of the device shows a form factor similar to the Nokia E7, which has a sliding keyboard in landscape-mode and large display. However, with news of a 4.5-inch screen, the Nokia phone/tablet hybrid will eclipse the 4-inch display on the E7.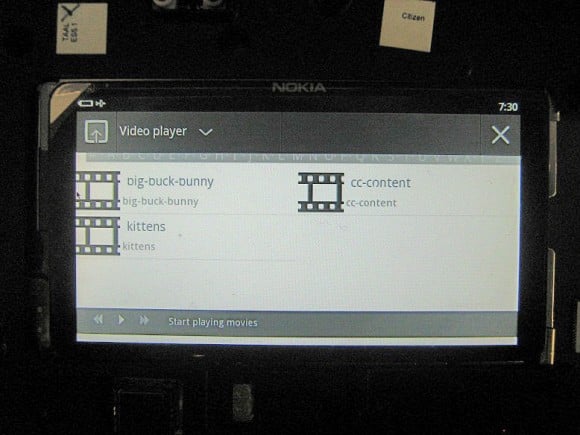 If this device does have a sliding keyboard, it will follow Nokia's steps with the Maemo 5-based Nokia N900, which used the Maemo OS prior to Nokia's switch to MeeGo with its collaboration with Intel. The N900 was also considered the company's smartphone/tablet hybrid despite its pocketable size and smaller screen size as Nokia had intended the device to be used primarily in landscape orientation, like a tablet, but also included voice support, a cellular modem, and 3G connectivity that is compatible with T-Mobile USA's network.
A prior rumor of the Nokia N9 suggests that the MeeGo smartphone/tablet hybrid will launch with an Intel Atom-based CPU rather than an ARM-based CPU, like those by Qualcomm, Samsung, NVIDIA, and others.
Also, from previous leaks and speculations, the Nokia N9 would have the same aluminum build of the E7 and also the strong performance camera from Nokia's flagship N8–which includes a large camera sensor capable of capturing 12-megapixel stills and 720p HD videos, a mechanical shutter, Carl Zeiss optics, and also a powerful Xenon flash. I was pleased with the capabilities of the N8 that the device has become my own personal "smart camera," replacing my stand-alone digital camera as the N8 offers me connectivity through WiFi or 3G (AT&T and T-Mobile 3G are supported in the same phone!) for wireless photo uploads to social networking sites, geo-tagging with the phone's built-in GPS, and strong performance in bright and dark environments.
According to GSM Arena, it's unclear if the above leaked image is the final production-ready edition of the MeeGo smartphone/tablet from Nokia, or an engineering sample or test hardware. When launched, MeeGo will have to compete against other smart operating systems, such as RIM's BlackBerry OS, Google's Android OS, Apple's iOS, HP's webOS, and Microsoft's Windows Phone 7 systems. In the past, with my experience with Maemo I found the OS to be strong, extensible, and powerful, but lacked the consumer-polish and apps that would make the OS mainstream. Hopefully, with MeeGo, Nokia can combine the power of MeeGo and the consumer appeal of a more consumer-centric smartphone OS and grow its available apps while retaining the extensibility of the system that developers and hackers love.