Is This the Microsoft Office for Windows 8 Users Have Been Waiting for?
A presentation that leaked past weekend could provide Windows 8 users with an idea of how the Windows Store version of the Microsoft Office Suite of productivity apps will look when they do finally arrive.
Microsoft watcher Paul Thurrott was among the first to share the screenshots of what could be the version of Microsoft Office that makes it into the Windows Store.
The presentation includes screenshots of the five major Microsoft Office applications that seem to have all been adapted to fit the touch-centric and mouse friendly design language that building a decent Windows Store app requires. In these pictures Word, Excel, PowerPoint and Outlook have all had their designs tweaked. that being said, each has its own unique flair.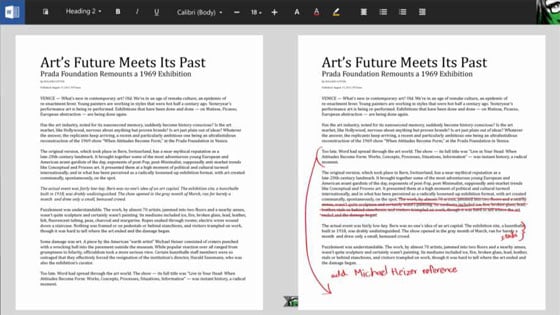 Microsoft Word in this presentation sort of resembles the version of Word that's available to users through the free Office Online web apps. The Ribbon bars that hold and sort options inside of the desktop version of Word have been replaced with a single bar that holds all the necessary formatting and controls. On the right of that bar is the picture that the user has associated with their Microsoft Account, just like in Office 2013. Later screenshots show how users will track changes made by others they are collaborating with on the same document.
Ironically, the Excel Windows 8 app depicted in the presentation resembles its Office Online and Office 2013 counterpart more than Word does. It actually retains the Ribbon bars that sort different options based on categories. However, it spaces options out even more, making them a much easier target for someone who is trying to use a finger to underline text or reformat a cell. It also features collaborations and users will be able to add notes to their presentations with a pen like they can today. It's this app that looks the most complete and well thought out.
Like Word, the version of PowerPoint depicted in this presentation seems to mostly drop the Ribbon UI in favor of giving users more work room. It still has a Home button, possibly indicating that it too will sort options that are related to each other, but how users switch between those different sets of options remains unclear. It too has been redesigned with large touch targets so users won't have trouble tapping on a command with their finger or a stylus.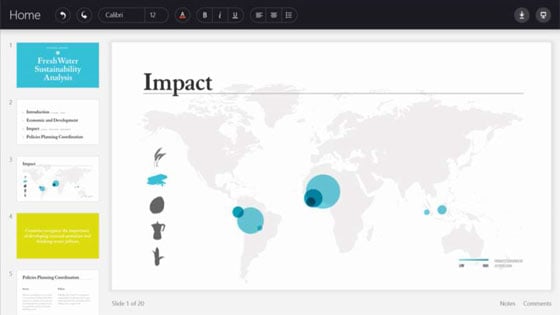 Of the four unreleased apps included in the presentation, a possible Outlook Windows Store app for Windows 8 devices looks the most radical. That's because it ditches the Ribbon option sorting entirely. Instead, it shovels calendar and email functionality into a side bar of the left side of user's screen. Presumably, switching between Mail or Calendar extends that sidebar revealing other options and a menu for users to track who they are getting messages from. All told, this version of Outlook looks remarkably similar to the Mail app that's included in Windows today.
A version of Lync, the corporate communications app that's is included in Microsoft Office, is also included in the screenshots. It doesn't reveal much but does highlight pen input.
In fact, the entire presentation is all based around the concepts Microsoft is considering as it seeks to rethink the way it approaches styluses. Today, Windows supports writing text and taking notes with a stylus for users who have a touch screen. Unfortunately, as GottaBeMobile's Warner Crocker concluded, pen input or what's commonly referred to as Digital Inking, isn't as robust as it could be in Windows 8.
Read: Microsoft Resurrecting Digital Inking
Digital Inking is important. More specifically, Digital Inking is important for Microsoft's own Surface tablets. Recent rumors indicate that Microsoft is looking to use stylus writing as a way to boost the Surface line of device's profile with users. The Surface tablets compete directly with Apple's iPad Air and Macbook line, any exclusive features for Microsoft to tout in advertisements would be an advantage.
That being said, these Windows Store Office apps are an even bigger deal than digital inking. That's because two years after Microsoft released Windows 8 there are still no Windows Store versions of Microsoft Word, Excel, PowerPoint or Outlook. There is a version of OneNote, however it doesn't have nearly as many features as its desktop counterpart does.
That's a big problem as Microsoft prepares to head into another summer buying season without a native version of the world's most popular productivity suite on its own tablet platform. Rumors have pegged the launch of a Windows Store version of Microsoft Office to run on Windows tablets for release sometime this year. It's worth noting that Microsoft does make Office available to Surface, Surface 2 and tablet buyers today, however that version isn't well optimized for touch and it drops users back into the Desktop interface Microsoft had been encouraging casual users to abandon for Start Screen apps until recently.
Read: The 10 Metro Apps Windows 8.1 Needs Right Now
If Office Windows Store apps are on the way for Windows 8 users this year, it's completely possible that the versions of the apps in these photos are just concepts or early working models. To meet a 2014 deadline Microsoft would presumably, be farther along than what's shown here. Hopefully, their interface would be more consistent than what's shown in these pictures as well.
Microsoft Office is already available on Apple's iPad.

As an Amazon Associate I earn from qualifying purchases.