Is this the Nokia Phablet?
We may now have our first pictures of the often rumored, but never seen, Nokia phablet running Microsoft's Windows Phone 8.
Recent images found by social media user C Technology on the website of the regulatory organization TENNAA — the Chinese equivalent of the United States' Federal Communications Commission — and reported by the Boy Genius Report, showcase a Nokia device running Windows Phone 8 that has a rather large display.
The images depict a rather svelte Nokia Lumia device that's likely made of the same polycarbonate material that Nokia has used on nearly all of its Lumia Windows Phones to date.
Though the size of the display can't be confirmed based on these pictures alone, leaked documentation also provided by TENNA indicate that the device – which is to branded as the Lumia 625 — sports a 4.7" inch display. If that's true, this device marks the first time that Nokia has made any devices with that screen size. Currently, Nokia tends to stick with more mainstream chassis centered on 4.5" or 4.3" displays.
Just because Nokia might have included a bigger display, doesn't mean it's getting into the phablet — that is phones with screens so large that they border on being tablets, market in the traditional fashion. Instead of cramming the Lumia 625 with the latest internals, Nokia may be aiming the device for the low-end smartphone market.
Reportedly, the device will feature a dual-core 1 GHz processor and just 512MB of RAM. The amount of RAM alone puts this device safely on the low-end spectrum of Windows Phone devices. Even more telling is the relatively low-resolution screen. Though the device will have a 4.7" display, its screen has a resolution of just 800 x 480 pixels. It'll also sport a 5 megapixel camera, another decidedly low-end smartphone decision.
These specifications along with the design cues that the device takes from the Nokia Lumia 521, all seem to indicate that the device will be part of Nokia's low-end, direct-to-consumer selling strategy. Starting with the Lumia 521, Nokia has pushed mid-range Windows Phone devices directly to consumers in department stores and places like Wal-Mart. Instead of having to sign up for a two-year service agreement, users who pick up these devices simply pay the low-cost of the device up front and then use the device on prepaid services.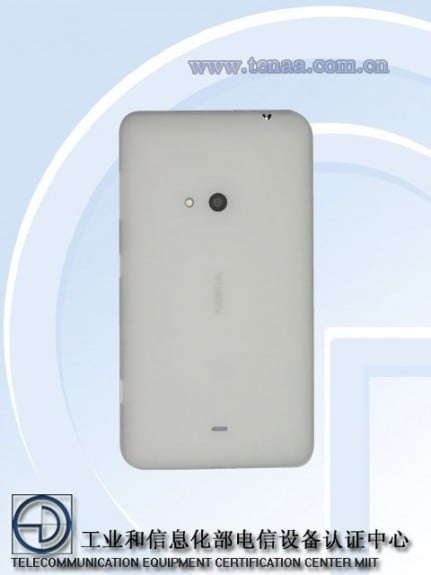 Whether Nokia will do this with the Lumia 625 isn't yet clear. The leaker who pointed out the TENNA documentation did indicate that Nokia would be selling the Lumia 625 for around $325 with no carrier subsidies. If that's true, the Lumia 625 could be heading for T-Mobile's or another carrier's prepaid service any day now.

As an Amazon Associate I earn from qualifying purchases.