Is this the Real Facebook Phone?
A leaked photo from @evleaks shows what could be the final design and name for the HTC Myst, a.k.a. the "Facebook Phone."
The photo shows a rather generic smartphone that looks a bit like an iPhone that carries the name "HTC First." The phone's name uses the same blue that Facebook uses through its website and apps in the familiar font the social network uses for its logo.
The phone has a small circular button that is likely the home button below the screen, along with a back button and a horizontal line that it like the menu or multitasking button. Above the screen is a front-facing camera and a speaker that's just a thin line beneath the (chamfered?) edge of the phone.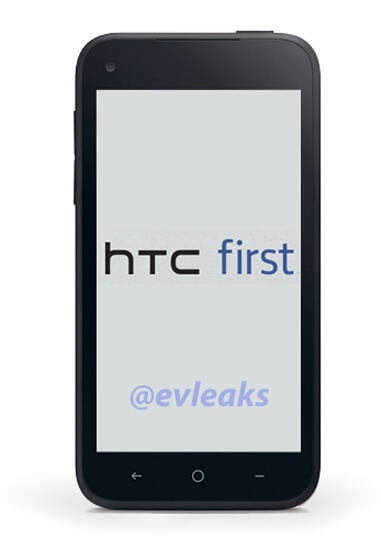 The design matches up with previous rumors that said the phone will use a 4.3-inch 720p display and look a lot like an iPhone. the recent HTC One also takes a few design cues from Apple, but from the front the rumored HTC First looks very close to the iPhone 4/4S. The similarities include the overall shape and the placement of the power and volume buttons on the top and left side of the phone, respectively.
The HTC First will likely be the first phone to use the social network new Facebook Home feature. The rumored Facebook Home will put the Facebook News Feed on a homescreen, likely similar to how BlinkFeed puts a news and social reader on the homescreen of the HTC One.
While many will likely called the HTC First a "Facebook Phone," Home may actually turn any Android smartphone into a Facebook Phone. A recent leak of the new Facebook for Android app included hints that Home will work with HTC Sense, Samsung TouchWiz as well as stock Android devices.
Facebook will likely announce Facebook Home and the HTC First at its "new home on Android" event this Thursday, April 4.