It's often said that the things you should worry about most are your friends. Microsoft's Windows 10 update is about as friendly as Windows software upgrades get and that has some people worried.
Microsoft isn't charging home users running Windows 7 or Windows 8.1 to upgrade to Windows 10. That's hard for users to accept in itself, new upgrades of Windows have cost over $100 in the past. Second, the Windows 10 release has ushered in tons of other consumer friendly ideas from the company. Office Mobile, is completely free for devices with screen sizes smaller than 10-inches. Microsoft's Xbox Live multiplayer gaming service is coming to the operating system for users absolutely free of charge.
Read: Windows 10 Review – A Love Affair
Suspicious minds have leveled all sorts of charges at Windows 10, claiming that the operating system does everything from log what users are doing, to scanning their video games to make sure they aren't stolen. Some even claim that Microsoft is pulling a bait and switch, hoping to get more users to download the Windows 10 upgrade so that it can charge them for large future upgrades down the road.
Some of these charges are interesting, others aren't necessarily things you should worry about. Let's separate what you should be worried about from what is rumor and speculation.
Is Microsoft Scanning for Stolen Games in Windows 10?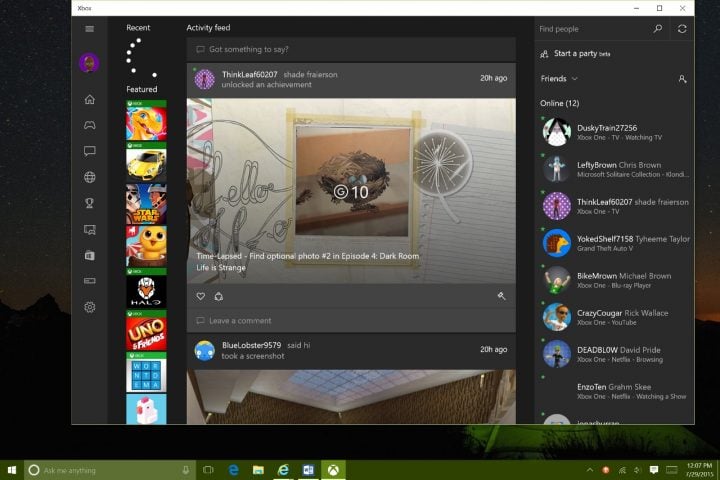 The latest bit of worrying Windows 10 accusations have centered around games. Microsoft also makes the Xbox One and Xbox Live. Windows 10 adds the Xbox Live service and Xbox app so that PC gamers can finally use all the same accessories and account for their hobby.
Early reports indicated that Microsoft made changes to what's called it's End User Licensing Agreement for Microsoft Services. Allegedly, these changes give the company power to do invasive things with games. As the rumor goes, Microsoft could use Windows 10 to scan the gaming libraries of users and disable counterfeit games and programs.
Some theorize that Section 7B of the Microsoft Services Agreement grants Microsoft broad powers to combat video game piracy. It says, "Sometimes you'll need software updates to keep using the Services. We may automatically check your version of the software and download software updates or configuration changes, including those that prevent you from accessing the Services, playing counterfeit games, or using unauthorized hardware peripheral devices." That doesn't spell out in any terms that Microsoft plans on scanning PCs for counterfeit games.
More importantly, the Microsoft Services Agreement only covers the services that the company provides, things like Xbox Live for example. Windows 10 has a licensing agreement of its own, and Xbox Live has always actively prevented users from modifying games. Microsoft goes so far as to ban people consoles and accounts for Xbox Live for that kind of behavior. What Microsoft is saying with in this section is what it's always said, it doesn't tolerate stolen games on Xbox Live services. It's not saying that it'll scan Windows 10 PCs to delete or modify stolen games.
Is Windows 10 Violating Your Privacy?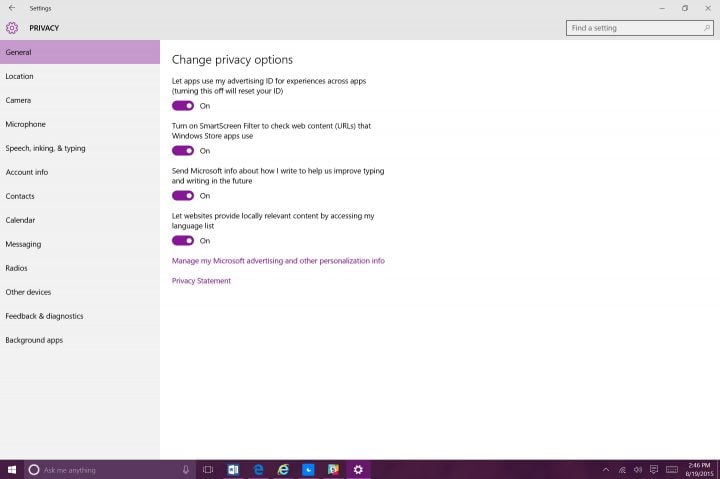 A few years ago, users couldn't be bothered to care about their privacy. News of government surveillance programs, have made privacy a very big concern for some. Microsoft, Yahoo, Google, AT&T have all been accused of working with the United States government to monitor what users have stored on their servers.
Windows 10 is a cloud-connected operating system. It was built with modern ideas on productivity and ease of use in mind. As such, it connects to Microsoft's servers for a lot of what it does. Microsoft uses servers to understand the commands that are given to its Cortana Personal Assistant, for example. If the "Hey, Cortana" voice command is turned on, Windows 10 is always listening, waiting for you to need it. It also logs what users type so that it can learn their speech patterns. This feature is key for the new predictive text keyboard that Windows 10 includes. There's also some advertising features built in so that app makers can give users location aware content.
Microsoft told ComputerWorld that it takes user privacy seriously. "Microsoft does not use or share content of user's email for purposes of personalized advertising. We do not provide a customer's email address, emails or other personal information to advertisers. Microsoft does not use what you say in email, chat, video calls or voice mail, or your documents, photos or other personal files to target ads to you." That's a denial that Microsoft itself or the advertisers it's affiliated with use the personal data, but not a complete denial that it shares information with government entities.
"Microsoft may share information when required by law or to respond to legal process or lawful requests, including from law enforcement or other government agencies." That part isn't exactly reassuring, and it's exactly why Windows 10 users can avail themselves of Windows 10's Privacy Settings.
Users who have already installed the free Windows 10 upgrade should go to the Privacy area in the Windows 10 Settings app. There they can turn off any features that worry them. Everything from advertising tracking to, microphone control and location information has a toggle.
Will Windows 10 Really Free?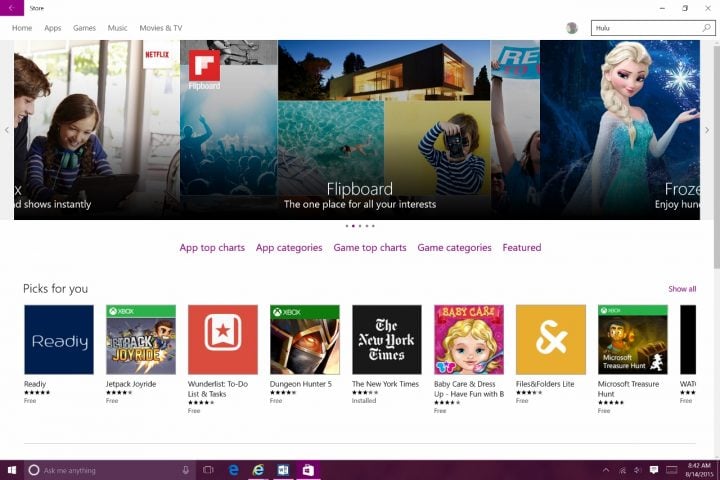 Finally, there's a devoted group of users who all speculate that Microsoft plans on pulling a bait and switch, luring users in with free Windows 10 upgrades, then charging them for updates down the road. This has some truth to it, I think.
Windows 10 is a new platform for Microsoft designed to have the same benefits for the company that iOS and Android do for Apple and Google. Neither of those companies make money on their operating systems. Instead, they count on the operating system to pay for itself and hook users into their platform.
We've seen absolutely no evidence that Microsoft plans to charge for Windows 10 large Windows 10 updates in the future. Microsoft remains committed to its Windows as a Service initiative, giving users free Windows 10 upgrades for the "lifetime" of their device. Microsoft's lifecycle page indicates the version of Windows 10 that we have now will exit mainstream support in 2020.
On some level though, Microsoft is charging users for extras. Hardware makers were required to provide DVD playback utilities in previous versions of Windows. In Windows 10, Windows Media Player can't play DVDs. Instead, that responsibility is offloaded to a separate app called Windows DVD Player. It's $14.99. Users upgrading their devices with DVD drives inside don't need to buy this application as it should already come with a utility provided by its maker.
Windows 10 also builds in support for Microsoft's subscription services. The Office Mobile apps are only free to Windows 10 devices with screens smaller than 10.1-inches. All other devices need an Office 365 account at a cost of $6.99 a month minimum. Users are free to not download the Office Mobile apps.
Extra OneDrive storage is included with Office 365, or users can purchase more space on its own with monthly and yearly subscriptions. OneDrive can't be uninstalled, but can be completely ignored. Microsoft also makes a tiny bit of money on every purchase users make through the new Windows Store. Again, users can choose not to buy apps, games, music or movies from Microsoft.
In short, Windows 10 is free in the same way that every other operating system is free. Microsoft makes money on ancillary options and services, hoping that you'll stay in its ecosystem. It's no different than iOS on the iPhone or Android.
Should You Install It?
I'd hold off on installing Windows 10 while Microsoft gets out another round of fixes for issues. That being said, I wouldn't hold off because of some perceived worry that Microsoft is harnessing your data for nefarious activities.
Read: Windows 10 Upgrade Problems – My Experience So Far
To be clear, Windows 10 is learning more about you to make it's features better. If you're not comfortable with that, use the privacy settings and turn this stuff off. Cortana, for example, is completely optional.
Good luck with your Windows 10 upgrade.

This article may contain affiliate links. Click here for more details.