Isabella Products Announces First "Children's Tablet"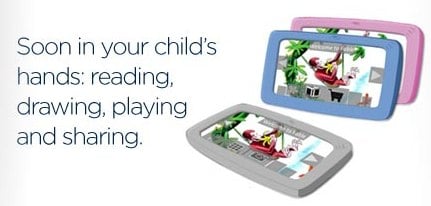 Tablet/Slate devices seem perfectly suited to children and there are tons of stories about children using iPads and other devices with touch interfaces. I don't think we've yet seen a Tablet/Slate device targeted at children. That's going to change with The Fable, a new 7 inch slate being launched by Isabella Products in a partnership with Houghton Mifllin Harcourt.
The Fable is a 7 inch slate offers reading, drawing, photo sharing, and gaming built for the small child. Books and content can be purchased through the VizitMe.com website to give parents some peace of mind about where content comes from and what it might be. In fact, when The Fable goes on sale in mid-2011 you can pick it up from VizitMe.com and other selected retailers.
Here's the press release:
Isabella Products Announces Partnership with Publisher Houghton Mifflin Harcourt to launch the World's First Children's Tablet
Fable™, the world's first wireless connected children's tablet
CONCORD, MA November 8, 2010 — Isabella Products, a leading mobile Internet device and services company, today announced Fable™, the first fully interactive, portable tablet that enables children to read, draw, game and share over the mobile broadband network. Fable boasts an extremely intuitive user interface with a 7" high-resolution, full-touch LCD screen that utilizes Isabella's patent-pending carousel navigation interface. Fable will come pre-loaded with world-famous children's content from strategic partner and global education leader Houghton Mifflin Harcourt (HMH).
"Isabella Products is excited to bring to market the first children's tablet aimed at creating a learning experience unrivaled by today's toys and e-Reader products," said Matthew I. Growney, Founder and CEO of Isabella Products. "We believe Fable will safely and securely usher in some of the youngest users to a digital learning environment, and with HMH's extensive list of award winning children's titles, we will design a superior digital content experience." Fable is expected to be available in mid 2011 through VizitMe.com and select retailers.
Fable's easy-to-use interface, coupled with a secure connection to Isabella's VizitMe.com content management system, enables children to interact with educational and entertaining content at home, school or on-the-go. Fable's core applications include reading, drawing, gaming and photo sharing. Fable will ship with selected content from HMH's treasured storybook collection. The e-Reader application will provide access to the Fable library, which includes a child's personal collection of preloaded and purchased material available for immediate viewing. Parents and children will be able to purchase additional eBooks from Isabella's VizitMe bookstore or directly from the bookstore located on the Fable device. With a wide selection of picture books and interactive content, Fable provides an entertaining digital experience for children of all ages and interests.
"Fable integrates classic stories and technology to enable children to experience our content in a rich and exciting way," said Cheryl Cramer Toto, Senior Vice President of Digital Strategy and Planning for HMH. "We continuously strive to entertain, educate and inspire young readers, and through the partnership with Isabella Products we are delighted to make our children's picture books available on Fable."
In addition to the e-Reader application, Fable offers:
• Drawing – Includes an artistic toolset of various sizes and colors including markers, paintbrushes, magic pens or shapes, which can be applied to a blank page, coloring book pages or photos.
• Gaming – Provides interactive games focusing on counting, reading, nutrition, colors, shapes and other educational themes, all supported by HMH and other publishers' unique characters and stories.
• Photo Sharing – Supports the delivery of photos from family and friends to Fable's own Gallery. An onboard camera will also allow users to take photos from Fable and share them as well. Photos can also be used as coloring sheets in the drawing application.
To ensure a secure and safe experience, Fable is managed by Isabella's VizitMe.com content management system that controls the device's access to new content, friends and family, and the VizitMe bookstore. Fable's settings can be adjusted on the device by parents through a pin code or can be remotely managed through a password-protected account at VizitMe.com. All purchased and created content is saved on VizitMe.com where parents can also invite and manage their friends' and family's interactions with the child's device.
Powered by a mobile broadband connection, families will be able to take their child's Fable with them almost anywhere—as a fun interactive and entertaining tool in the car, at a sibling's soccer game or on the school bus. Fable's durable design takes into consideration a child's handling of the device and external factors within various environments. For more information about Fable, please go to www.isabellaproducts.com.
About Isabella Products, Inc.
Isabella Products, Inc. is a mobile Internet device company focused on developing innovative solutions for emerging consumer needs. With its initial product, Vizit®, Isabella enables consumers to interact with the billions of unshared images found within camera phones, PCs and the Internet by combining a state-of-the-art touch-screen display with wireless network capabilities. The second family communications device in the Isabella line is FableTM, a handheld, connected children's tablet for reading, drawing and gaming. Isabella Products is led by a world-class management team with deep experience in the consumer electronics industry. For more information, please visit www.isabellaproducts.com.
About Houghton Mifflin Harcourt
Houghton Mifflin Harcourt is a global education and learning company that is leading the way with innovative solutions and approaches to the challenges facing education today. The world's largest provider of educational products and solutions for pre-K–12 learning, Houghton Mifflin Harcourt develops and delivers interactive, results-driven learning solutions that advance teacher effectiveness and student achievement. Through curricula excellence and technology innovation, Houghton Mifflin Harcourt collaborates with school districts, administrators, teachers, parents and students. Today, HMH education products and services are used by 57 million students throughout all 50 U.S. states and 120 countries. With origins dating back to 1832, the Company also publishes an extensive line of reference works and award-winning literature for adults and young readers. For more information, visit www.hmhpub.com.

As an Amazon Associate I earn from qualifying purchases.