It Doesn't Take a Genius: Samsung Goes on Offensive With Anti-iPhone 5 Campaign
Over the weekend, Samsung has taken to the web and print advertisement to take on Apple's newly announced iPhone 5–which will start shipping this Friday–with a new campaign titled 'it doesn't take a genius.' Samsung is not only highlighting the major differences between its own Android flagship Galaxy S III smartphone with Apple's latest iPhone 5, but also persuades readers that "the next big thing is already here" with the Galaxy S III.
After having lost a patent infringement case in California against Apple and being penalized over $1 billion by a jury, Samsung's controversial ad campaign is not only a play on words with genius, referring to Apple's Genius Bar staff who services Apple products should there be any issues, but also an attempt to highlight that the Galaxy S III is truly different and superior.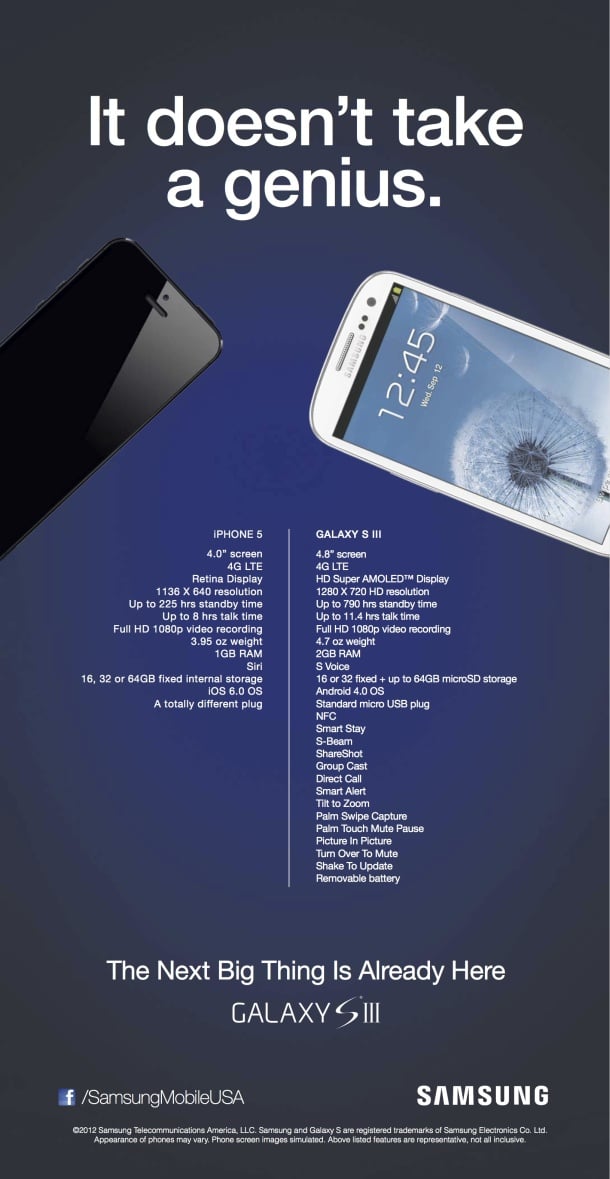 Many of the features that Samsung highlights as differentiating are unique to the company's implementation of Android via TouchWiz and the Nature UX, such as S Beam, ShareShot, Group Cast, Direct Call, Smart Stay, Palm Swipe screen capture, and Palm Touch Mute Pause. Features such as a standard micro USB plug, NFC, removable battery, and expandable memory are not unique hardware features, but do help the Galaxy S III stand out. The 2 GB of RAM does help Samsung stand out in a crowded space in a market where users are concerned about multitasking and doing more while mobile.
In the past, Apple stated that it does not compete on specs and that it is ultimately the overall user experience and how hardware and software interact with each other that makes the company special. The company has not detailed the number of processing cores on its A6 processor, the amount of RAM the new iPhone has, or many of the underlying technology. In many ways, comparing Android to iOS may not be fair from a hardware perspective as each OS requires different levels of hardware for a fluid and smooth experience.