It Will Take a Week for Microsoft to Replenish Surface Pro Stock
It will take Microsoft a week to replenish stock of the higher end 128 GB Surface Windows 8 Pro to retail stores and partners. The tablet, which launched with 64 GB and 128 GB varieties last Saturday on February 9, won't be restocked until this coming Saturday, giving Microsoft a week to produce more tablets and ship them to stores to make them available for consumers to buy.
The launch of the Surface Windows 8 Pro has been highly anticipated and at the same time controversial. The tablet was expected to fix many of the problems plaguing Surface Windows RT–mainly in providing support for legacy programs designed for Windows 7 and earlier in addition to the Metro-styled apps–but the Surface Pro launched with mixed reviews. Early reviewers praised the strong build quality, but knocked the Surface Pro for its thickness, heft, and short battery life despite strong performance with an Intel Core i5 processor, making the device more like an Ultrabook in terms of sheer performance.
Moreover, the Surface Pro was the subject of controversy following news that the tablet was quickly sold out online and customers who visited retail stores were greeted with huge lines reminiscent of an Apple product launch. While that would be good news for Microsoft in general, the news was marred by conspiracy theories suggesting that Microsoft may have severely constrained supply to create a false sellout to generate buzz about the tablet.
Early indications suggest that Microsoft may have sold less than 20,000 tablets, though the company has not commented on sales numbers for either Surface Pro or Surface RT models. Supporters of Microsoft believe that Microsoft may have altered the production numbers since Surface RT initially sold out, but experienced high return rates making the sellouts less meaningful. Microsoft says that it's happy with the rate of sales of Surface Pro.
According to WMPU, Surface team head Panos Panay tweeted the news of the restock date for Surface Pro. Panay says that the 64 GB model is being shipped now to Best Buy, Staples, and Microsoft retail stores and online.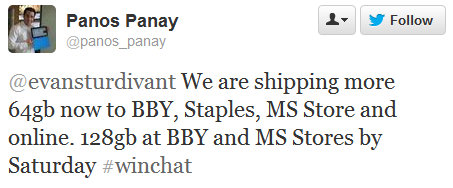 Given that it's still unclear how many 128 GB models will be stocked at these locations come Saturday, it's advisable that customers interested in Surface Pro arrive early. We'll have to see if excitement for the Microsoft-branded slate will continue a week after the initial availability date.
The fact that it is taking so long for Microsoft to replenish is worrisome in itself. Apple, which has long suffered supply issues surrounding popular launches of iPhone and iPad models have been able to manage its supply chain and production more carefully. In Apple's case, the Cupertino, California company was able to replenish supplies on a daily basis. It's unclear why it's taking Microsoft so long to replenish inventory.

This article may contain affiliate links. Click here for more details.