Item Cannot Be Downloaded Error Annoys iTunes Users, No ETA for a Fix
iPad, iPhone and Apple TV owners may be a little frustrated today. An iTunes "This iTem Cannot Be Downloaded on This Network" error, which instructs users to connect to WiFi, is preventing movies and other media from downloading to some user's iOS devices.
Apple confirmed that this is an issue, but has not provided an ETA for a fix, according to a report by The Next Web.
Support said that the issue has to do with the iTunes cloud or iTunes servers.
In the Apple support forums there are a number of users having the same problem. Apple support told one user that the issue occurs when users try downloading files over 15MB. That was just one user, however, and we haven't heard that number anywhere else.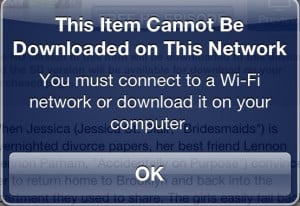 We've also seen iPad users on Twitter citing similar download problems, even when connected to WiFi networks.
Right now the only thing users can do is wait for Apple to fix the issue. Unfortunately Apple doesn't know how long it will take to fix the problem. It's not the best solution, and it isn't a fast solution, but it's the only solution we have. This is one of the problems of cloud storage, when the cloud goes down, everything is down.
Thankfully the cloud doesn't go down very often, this is the first time Apple's iTunes in the Cloud hasn't worked correctly since launch (though iCloud and MobileMe before it have been known to go down from time to time).
It is sad to think that this could happen to Apple users even with Apple's giant data center in North Carolina. Apple built that data center to prevent events like these from happening.

This article may contain affiliate links. Click here for more details.