iTether App Sneaks Into App Store, Brings Unlimited Tethering
Those on AT&T's network and are holding onto their grandfathered unlimited $30 per month data plan and dream of tethering may be happy to know that an app has snuck itself into Apple's App Store to bring just that exact functionality. As AT&T requires grandfathered unlimited plan owners who wish to gain tethering capabilities to switch to a metered or tiered plan, iTether will bring you full USB tethering without requiring iOS users to switch their data plans nor sign up for an official tethering plan.Those already on a metered plan and wish to gain occasional tethering capabilities can also join the fun, but beware as overages can be expensive.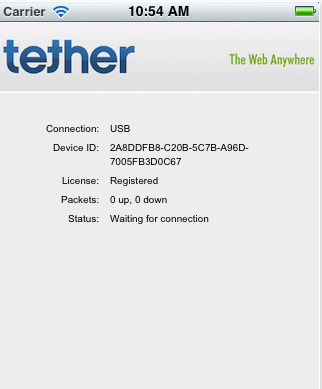 It's unclear how long this app will be around for, so snatch it while you can. Tethering but failing to sign up for the appropriate data plan would surely violate the terms of service of carriers like AT&T, Verizon Wireless, and Sprint.
The app is available for a flat one-time fee of $15 whereas carriers usually require a monthly tethering add-on.
Via: 9to5 Mac