It's Alive! The HP Slate 500 arrives with pen + touch, Evernote, and more!
After months and months (and months) of floating in limbo, the HP Slate 500 Tablet PC, formerly known simply as the HP Slate, is finally on its way. Having seen leak after leak about the specs and even video of it in action, it may seem like it's out of surprises, but the official specs and announcement do share a few new items.
First, the report that the 500 is headed for the enterprise channel was no lie. In their official statement, HP describes the Slate as "designed specifically for business, enterprise and vertical customers." They further cite the industries of "retail, healthcare, insurance, education and hospitality" as target audiences for this business machine, and throw in the "Tablet PC" name for good measure. Basically, if you want one, go online to HP's business site. Don't go to Best Buy or Fry's hoping to catch it.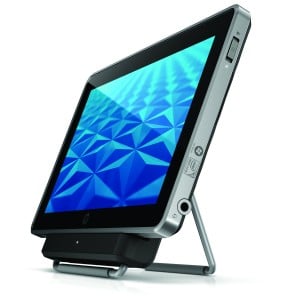 Second, the specs are, not surprisingly, beefed up from what we saw months ago. Processor is Intel Atom Z540 1.86GHz. Ram is 2GB DDR2. Onboard storage is 64GB SSD. Graphics is Intel GMA 500 with Broadcom Crystal HD Enhanced Video accelerator. OS is bumped up to Windows 7 Professional.
All that is on top of the specs that haven't changed, including 8.9″ 1024×600 LED-backlit, wide-viewing angle, pen + touch display. Yes, it does come with a pen but, no, they don't list which digitizer it is. I'm inclined to believe the previous report of N-Trig. Update: Others are reporting Wacom, and it looks more like that from the video. Update 2: Sorry, right the first time. Will show you shortly.
Making the pen more useful is Evernote, which comes preloaded. I know, preloading software that's already free isn't a big deal for the buyer, but this is a win for the folks at Evernote. Congrats to them.
Another useful bit of software is an application to use the built-in cameras. The HP Slate Camera application works with both the front-facing VGA webcam for video and the back-facing 3MP camera for stills and video. Seems like this should be an obvious piece of software to include, but most PC vendors still treat built-in cameras like hardware for you to use with other applications rather than features to use out of the box.
It also has an SD/SDHC/SDXC card slot, one USB port, and the dock connector for power and port expansion via the included dock. The dock adds two USB ports and HDMI. Stereo headset + microphone port is on both the slate and dock. Connectivity is via Bluetooth and 802.11b/g/n. Starting weight is 1.5 lbs (0.68 kg) and packs 2-cell 30 Whr battery.
Price is $799 and that includes the HP Slate Digital Pen, HP Slate Dock, and HP Slate Portfolio. Official HP video from their Next Bench blog below. More video coverage coming soon.
https://www.youtube.com/watch?v=7xX-B2wG1e4
Check out our other posts on the HP Slate 500 too!

As an Amazon Associate I earn from qualifying purchases.