It's Official: Acer Launches 10-Inch Aspire One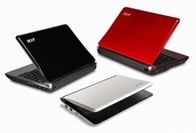 Anyone who didn't see this coming just wasn't paying attention. Acer has officially announced a 10-inch version of the very successful Aspire One Netbook. Other than size there are a couple of interesting new wrinkles.
The new model can be equipped with either an Intel Atom processor with the 945GSE Express chipset or Mobile Intel 820801GBM chipset, although it is unclear if that is a consumer choice or not. It will also be able to be equipped with up to 2GB of RAM.
Press release after the jump.
Acer presents the new Aspire One with a 10-inch form factor

Ultimate mobile freedom, now even bigger

Acer, the third largest vendor in the global PC market (source: Gartner data, 1H 2008), today presented an all-new 10" Aspire One netbook, complete with a 10-inch screen, Windows XP and integrated Bluetooth, and designed for a fast, simple and utterly cool online life.

Only one year after first appearing on the market, netbooks have totally revolutionized the PC market, helping to form an entirely new market segment that users themselves created through a real need to be online all the time and to socialize around the clock.

Acer, thanks to its unique ability to read market trends and anticipate user needs, rapidly introduced the Aspire One, the world's most popular netbook.

""Despite the recent problems of the financial markets and general economic uncertainty, the netbook and notebook markets will continue to grow in 2009" said Gianfranco Lanci, President & CEO, Acer Inc. ""With companies focused on containing the crisis, consumers and products designed for them become more important as users simply cannot do without their personal communication instruments."

At a little more than one kilo (1.18 kg), the new 10" Aspire One combines style, great features and a new form factor to provide the best combination of ultra-portability and maximum screen size for navigation and data input.

Designed for an optimal web browsing experience and Internet productivity, the 10" Aspire One includes a 10.1" WSVGA LED backlit display with a resolution of 1024×600 pixels that offers a broader vision for more convenient navigation. Integrated on top of the screen is the unique Acer Crystal Eye webcam optimized for poorly lit environments, a tiny window, tastefully encircled by a mirror rim, that keeps you connected to the world though live video streaming, video chats and conferences.

The 10" Aspire One comes with 802.11b/g WiFi and Acer Signal Up technology built-in as standard for easy access to available wireless networks. In addition is equipped with Bluetooth and can also be specified with a choice of embedded WiMAX or 3G wireless technologies for unlimited connectivity.

The 10" Aspire One meets Energy Star 4.0 requirements and can be equipped with a 6-cell Li-ion battery pack. With incredibly low idle power consumption, the 10" Aspire One guarantees up to 7 hours battery life for maximum fun. The battery indicator, placed on the front side is immediately recognizable even when the netbook is folded.

But the 10" Aspire One not only keeps you always connected; it keeps you connected with style. Available in four high-gloss color options including white, blue, red and black, the unmistakable design immediately catches the eye. The slim and streamlined Aspire One evokes speed and mobility, making it clear that it was designed for a life on the go. Stylish details such as the aerodynamic shaped metallic hinge with a colored accent and the fancy bright color rim that encircles the mirror plate power button immediately draw attention. The brushed-metal palm rest offers a refined look while avoiding unaesthetic fingerprints.

The 10" Aspire One is equipped with an Intel ® Atomâ"¢ processor, Mobile Intel ® 945GSE Express Chipset or Mobile Intel ® 82801GBM Chipset and can be equipped with up to 2 GB of DDR memory for an enhanced user experience. Notwithstanding the small size, the 10" Aspire One features a large 160 GB internal hard drive. In addition the 10" Aspire One features a multi-in-one card reader for absolute data freedom.

The Aspire One comes with Windows XP ® Home operating system; additional preinstalled software includes Acer eRecovery Management, Acer Launch Manager, Adobe ® Reader ®, McAfee ® Internet Security Suite, Microsoft ® Office Trial 2007.

The Aspire one comes with a 1-year carry in warranty which can be extended to 2 years with Acer Advantage.

As an Amazon Associate I earn from qualifying purchases.