It's Official Radio Shack Offering Subsidized Acer Aspire One for $99 with Contract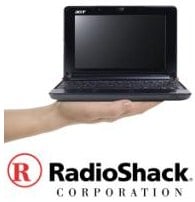 Well that leaked advertisement was indeed the real deal and now it is official. Radio Shack is now offering the Acer Aspire One Netbook for $99, provided you're willing to sign 2 years of your life away to AT&T for a data contract. That will hit your pocketbook for another $1500 over the life of the contract. Here's a link to the official info with all the details.
So, who wants to bet on what will be the next subsidized Netbook to hit the streets?