It's Official: Samsung Galaxy Note Launches Feb 19 on AT&T for $299
Samsung and AT&T made the release date and pricing for the Samsung Galaxy Note official today. The leaked roadmap from last week was almost right. Consumers get to scoop up the Note on February 19th, not the 18th. One extra day to wait.
Unless you pre-order. Customers that do so online or in stores will get their devices on February 17th, two days ahead of in-store availability
The phone/tablet (tabletphone? phoneablet?) will come in carbon blue and ceramic white and will cost $299 with a two-year contract. The price is pretty hefty — not out of line with recent superphone releases, however — but considering it sports a 5.3-inch display, 1280 x 800 resolution and pen input, this may be one of those times when the asking price truly fits what you get.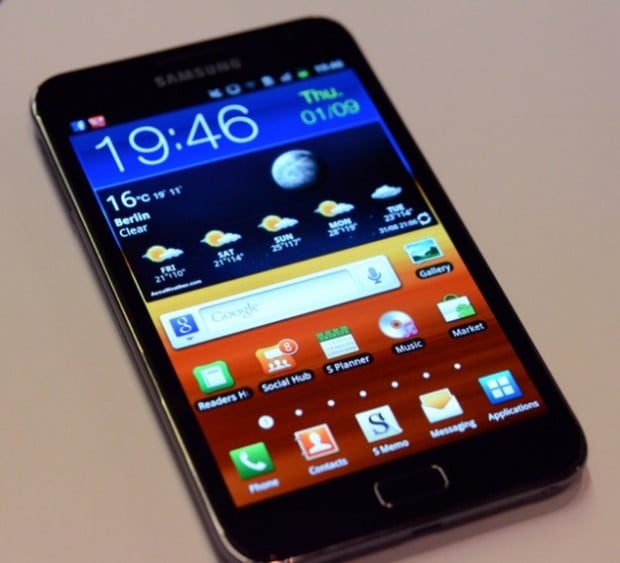 This is one of the only phones in recent memory I'm truly excited to test. We gave the Galaxy Note one of our Best of CES 2012 awards (for Most Versatile Device) because the team likes how it straddles different product categories yet doesn't appear to fall into the "does any things, but none of them well" trap like so many other convergence devices.
I'm personally fond of the giant display. Ever since I reviewed the 5-inch Archos 5 Internet Tablet I've felt that this size display is perfect for Android. Small enough to still fit in a pocket, large enough to read comfortably without having to scroll/turn pages too often, and just right for watching mobile video.
I know it looks a little silly held up to one's ear, but consider two things: 1. People held much larger cell phones to their heads not that long ago and still hold just as large landline handsets every day. 2. Bluetooth earpieces and headphones are making a comeback, so make the best of it.
Pre-orders begin February 5th (this Sunday).

This article may contain affiliate links. Click here for more details.