Itsdagram: Finally A Working Instagram App For Windows Phone 8
Windows Phone 8 users finally have a way to view and upload photos to Instagram via the new Itsdagram app.
Itsdagram is a $1.49 Windows Phone 8 app that brings almost all of the features of Instagram to Windows Phone, including filters, the timeline, comments and, of course, the ability to upload photos. WP Central reports that a free ad-supported version of the app is coming later this week for those who don't want to pay for the app.
Itsdagram follows the Modern UI of Windows Phone 8 to make an app that looks distinctly made for the platform. Using the app should feel familiar to those who used the iPhone or Android app before. Users just have to double tap photos to like them, and the list and grid views for photos are essentially the same, just with a different UI around them.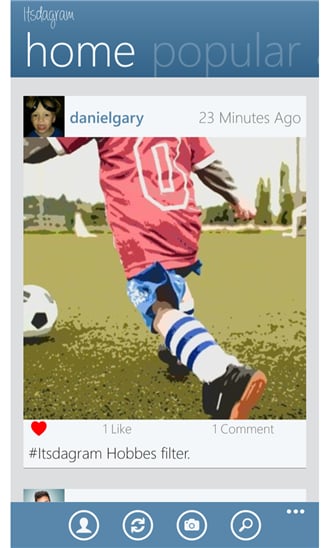 The app does let users see what photos they were tagged in, but it doesn't let users tag their friends in photos they take.
The filters of Itsdagram are different than the filters in the Instagram app, however. Some users may prefer the Itsdagram filters, or at least not mind them, but the photos will look different than ones uploaded with filters from the Instagram app.
Itsdagram promises that it will regularly release new filters without updating the app, so sometimes users may try to upload a photo and find a new filter they didn't have before.
For now Itsdagram only supports Windows Phone 8, but the developer promises that it will support Windows Phone 7.5 and 7.8 sometime in the near future.
There is still no official Instagram app for Windows Phone (though Nokia hinted it may come soon), so Itsdagram is the best option for those users who want to use the photo sharing service. It's not clear if Instagram will ever pull the app's ability to upload photos to the service, but for now the app seems to work well.

This article may contain affiliate links. Click here for more details.