iTunes 10.5 Available Now for Download with iCloud
As we predicted the iTunes 10.5 download page just went live at Apple, offering the newest version available for download for both Mac and PC. It doesn't show up yet in Software Update on my Mac, but should go live there very soon.
Apple will release iOS 5 tomorrow and iTunes 10.5 makes the music, video, and app buying and organization software compatible with the new version of their mobile OS. iCloud dominates this update. It also will include the hooks to get people ready for the new iPhone 4S which you can buy Friday.
(Read: Should I Buy the New iPhone 4S? and Should I Upgrade from an iPhone 4)
Here's what you get.
With iTunes in the Cloud, the music you download to one device automatically appears on all your devices.
That's how Apple describes the update. Buy an album on your computer and when you load the iPod app on your iPhone, iPad or iPod Touch, then you will see it there too automatically. This was previously true only of your apps.
Individual past purchases can now be downloaded from your iCloud storage. Any device associated with your account will be able to access past purchases. As they describe it – "song by song, episode by episode, app by app, and book by book."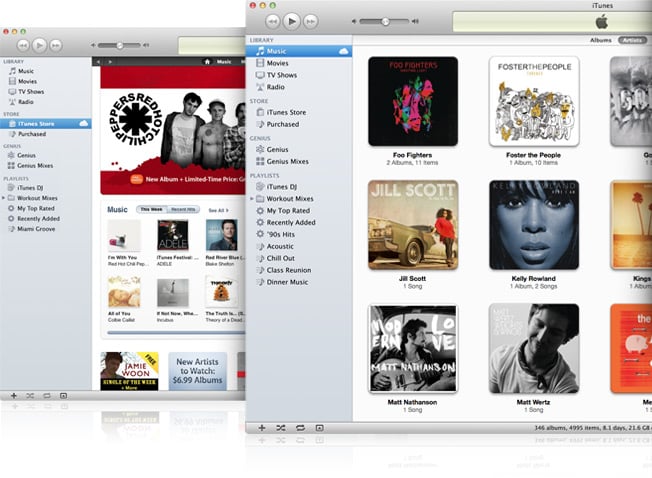 iCloud comes with unlimited storage for any content you buy form Apple. Five GB of additional storage for things like pictures and documents comes complimentary. You can add more for a fee.
15GB = $20/year
20GB = $40/year
50GB = $100/year
Finally, the iTunes Match service gives access to a cloud-stored version of any music file you have loaded on your computer's hard drive in iTunes. Here's the big news: this works even with music you've imported from a CD. So even if you didn't buy the song from Apple, it will be loaded into your storage online. This could potentially give functional amnesty to all of the music pirates out there who downloaded all that music from bit torrent. The song has to be a correct match, so not all of your music may be supported.
Before you install the update and tomorrow's iOS 5, you might want to follow our editor's advice on what to do before the upgrade. If you haven't ordered an iPhone 4S yet, you might be able to get one at one of the stores listed in our guide. Not sure which carrier to select? Check out this guide to the big three wireless companies offering the new iPhone 4S.

As an Amazon Associate I earn from qualifying purchases.