iTunes Radio for Mac Arrives: iTunes 11.1 Beta Tour
For the first time since it unveiled its new iTunes Radio service during its World Wide Developer Conference, we're finally getting our first glimpse of the service in a native desktop application; iTunes.
As part of the iTunes Music Match subscription service, users pay $25 a year for the radio service on all of their devices. Just like the radio features of Pandora, and Spotify, users can stream playlists that they've either come up with themselves, or the service provides based on their interest.
In between music playback, the application has ads for users who aren't subscribed to iTunes Match, just like rival music services.
To access the service today, users need have to the beta for the upcoming iTunes 11.1 update. Unfortunately, it's not yet available to the public, though when it is available, it's likely to come to users running Mac OS 10.7 or later.
iTunes Radio actually sits inside the Music area of the iTunes software client, just to the left of iTunes Match.  At any time users can browse through some pre-made radio stations that are maintained by Apple. These stations include collections of songs that are trending on the Twitter social networking service, what bands and artists are on tour and so forth. Users can click a small '+' button in the window to add their own custom stations.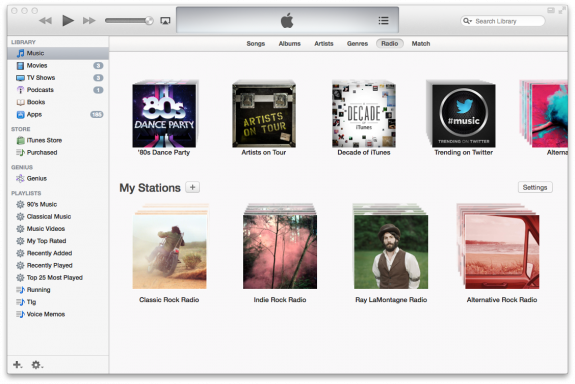 During the editing process users can customize that type of songs that play as part of each radio station by telling iTunes Radio what type of music they like or by adding songs they already know they'd like to hear.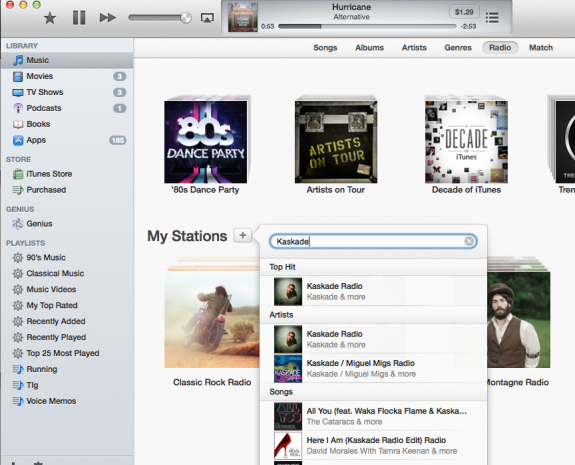 Users can even tell the service that they'd like to hear more of one particular artist. For example, in this screenshot by telling iTunes Radio to only play more things like Kaskade, we're creating a station that will find more music like his.
The setup process is easy, when users first open the 'Radio' tab inside of Music, they'll find a button that says 'Start Listening'.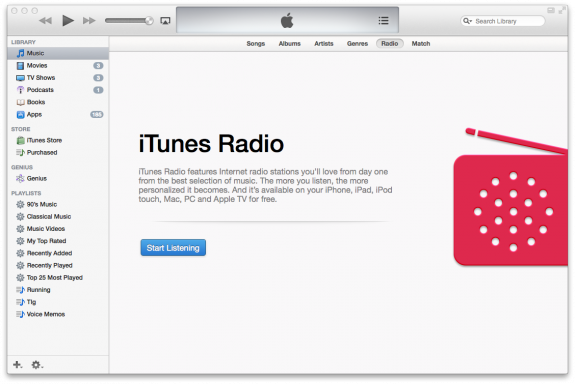 By clicking that '+' button beside the My Stations header, users can auto search for artists, and songs from which they can create an iTunes Radio station.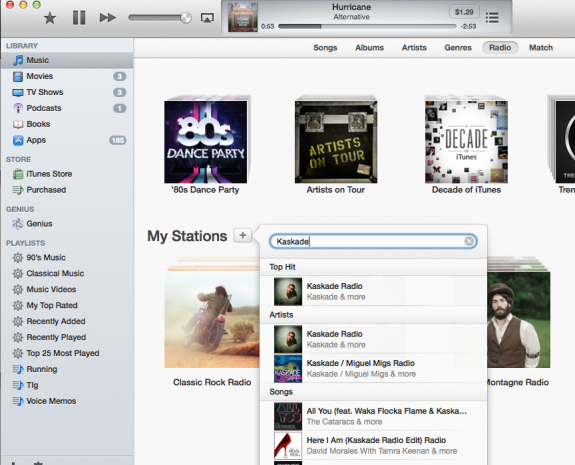 iTunes Radio does include options for making sure that advertisements played in iTunes Radio aren't tracking them. They are also able to ban explicit content from the playlists using the settings button on the right hand side of the iTunes Radio Window.
Users with Beta access to iOS 7 have been able to try the iTunes Radio on their iPhone and iPad since early June, however this is the first time the service has been available on any of Apple's other computing products. In addition to being restricted to Mac OS 10.7 users, iTunes Radio is also only available to users in the United States.
iTunes Radio is designed to put the iTunes, the world's largest music seller, on par with the subscription offerings of rival services. Although iTunes is responsible for a large amount of music downloads, it has been slow to adopt to the subscription music service model that is changing the way users get their music fix. Expect a full iTunes Radio launch this fall alongside iOS 7.