iTunes Sale Offers $15 Gift Card for $10
Now for a limited time, you can grab a $15 iTunes gift card for just $10, essentially giving you a free $5 to spend in the iTunes App Store.
The deal comes from Groupon, which sends the gift card via a digital code that you redeem in the iTunes App Store manually. If you've taken advantage of a Groupon deal in the past, you most likely already have an account there, so you simply just need to sign in and buy it, which takes less than 30 seconds.
From there, you'll receive an email saying your Groupon is ready and you can then view it on the My Groupon page where you can get the code.
While it's common to see frequent deals on iTunes gift cards, 33% off of a $15 iTunes gift card is something we don't see every day. Rather, it's more common to see deals where you can grab a $50 iTunes gift card for around $45 or so. In the past, we've seen $15 iTunes gift card deals for $13.50, which is certainly something, but really isn't worth to writing home about.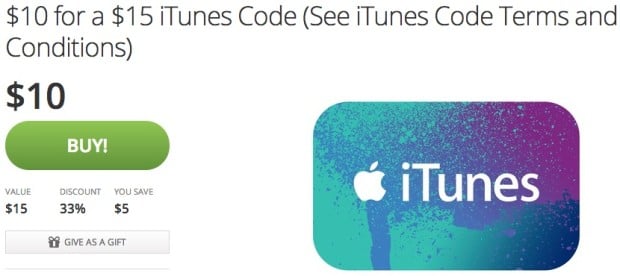 Recently, though, Apple started up a good deal that lets you grab a free $25 iTunes gift card if you bought an Apple TV at full price, essentially knocking down the price of a brand-new Apple TV down to $75, although the money you save has to be used for iTunes apps, games, movies, TV shows, etc. This deal is still going on and you can take advantage of it until September 30.
Of course, this isn't the only deal that we've seen recently for the Apple TV and iTunes gift cards, but it is just the second time this year that Apple itself is essentially discounting the set-top box. The company hardly ever discounts the Apple TV, so you're looking at a rare appearance of the Apple TV here.
The deal is supposedly a celebration and promotion for the upcoming iTunes Festival in London, which you can watch for free on your Apple TV.
The iTunes gift card can be used to buy apps, games, music, movies, ebooks and more from the iTunes Store. However, it can't be used to buy physical products on the Apple Store.
This deal also comes at a time when rumors for a newer Apple TV are heating back up. The new Apple TV is expected to come at some point next year  with full gaming support with iOS 7 controllers, as well as the possibility of a built-in TV tuner so that users can use the Apple TV's channel guide rather than the stock, crappy interface of most cable boxes.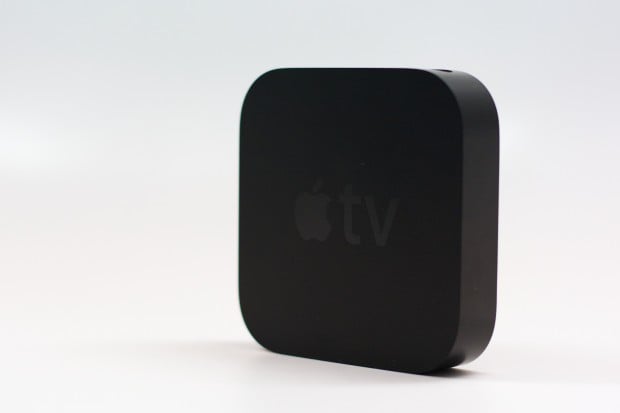 However, it's said that a minor Apple TV refresh could still happen in 2014, but we shouldn't expect a complete overhaul until 2015 due to negotiations with cable companies.
Many reports over the last few months had expected a new Apple TV to release at some point this year, and that could very well still happen. The Apple TV hasn't seen a decent refresh in a couple of years, and while there's a new version of iOS that will arrive for the Apple TV this fall, the hardware itself could use an update.
If you remember from earlier in the year, Apple boasted that the Apple TV would "evolve" in 2014, suggesting that the company could be releasing an all-new Apple TV before the year's end. However, knowing that Comcast is said to be a big part of the Apple TV refresh, we're not surprised that the cable company's recent acquisition is the reason that a new Apple TV is getting delayed.
Apple has stated in the past that the television market is an area of "intense interest" for the company, and it recently promoted the Apple TV to a dedicated device on the Apple online store, rather than just an accessory that was tucked away under the iPod category.
The Apple TV's user interface has remained mostly unchanged for several years, so it's nice that we'll finally get a redesign for Apple's set-top streaming box.

As an Amazon Associate I earn from qualifying purchases.