iWatch Details Emerge in Flurry of Leaks
iWatch rumors keep heating up, and we've been hearing about all sorts of alleged features coming to the new smartwatch, but a couple of new reports could give us the cherry on top as far as when and what we can expect from the iWatch.
The iWatch is rumored to arrive at some point this fall, right around when new iPads will most likely be launched as well. According to Reuters, Apple will launch the iWatch in October and will hit the production line starting sometime this month and hit high gear next month, which could mean that we might see production units get leaked sooner or later, but that's something we'll have to cross our fingers for. This October timeline goes right along with past reports that the iWatch will get released in October.
Furthermore, the same report claims that the iWatch will have a 2.5-inch screen, although that was all that was said about the matter. A 2.5-inch display is fairly large; by comparison, the Samsung Gear 2 watch has a 1.6-inch display and the Pebble smartwatch has a 1.25-inch screen. With such a large screen, it's hard to imagine how such a watch will look on small wrists, but it's said that there will be multiple models of the iWatch.
The Wall Street Journal says that there will be multiple designs of the iWatch, although details are pretty slim as far as this is concerned. It's possible we could see different models for men and women, with a slightly smaller screen for those with smaller wrists, but we'll have to wait and see.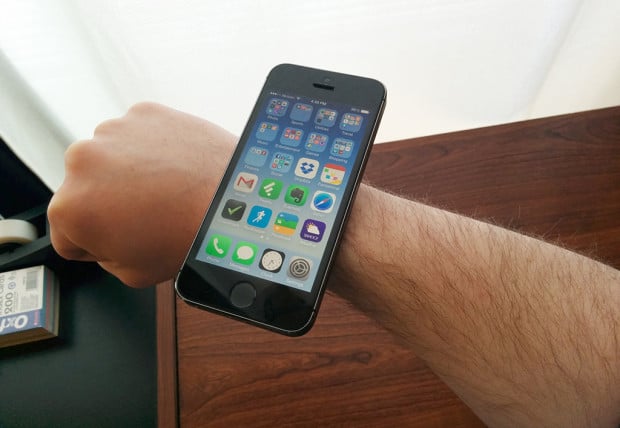 These reports from Reuters and WSJ also claim that the iWatch will come packed with a healthy amount of features, including wireless charging and over 10 sensors, with some of those sensors being dedicated to tracking various health and fitness elements. Apple has recently gotten more and more into the health-tracking phase and even announced HealthKit for iOS 8, which is a centralized app that gathers all kinds of health and fitness information of the user.
As for other features of the iWatch that have been rumored in the recent past, there are claims that it will sport a curved OLED display and run a modified version of iOS 8. A display like this wouldn't be far-fetched, but an earlier rumor suggests that the iWatch will have a circular display. We highly doubt that the iWatch will sport both a circular and curved display, so we're taking both reports with a grain of salt, but either one sounds rather logical at this point, although a 2.5-inch rounded display would be a bit too large, so we'll really just have to wait and see.
It was said in the past that the iWatch would come with a rounded display, similar to that of the Moto 360, which we've already seen teased on video. This would most likely mean that Apple plans on bringing a simple and elegant design to the iWatch, rather than try to reinvent the timeless design of such a device, which is good news for those who like elegant design mixed with smart technology.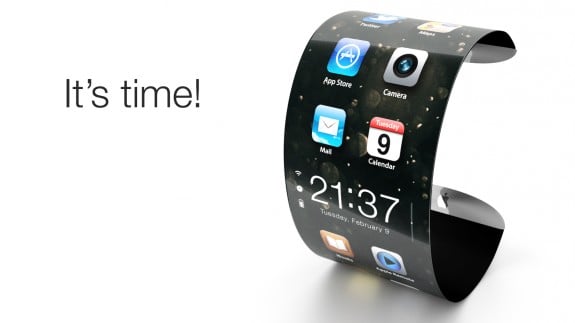 Furthermore, the iWatch is said to sport a slimmer case than the Moto 360, which could possibly make the iWatch lighter and more versatile, especially if it came with an OLED display. In an OLED display, each pixel is made up of an organic material (hence the name: Organic Light-Emitting Diode) that emits light when an electrical current is passed through it. Because of this, OLED displays do not require a backlight, allowing them to be thinner and lighter than normal LCD displays. This makes them possible to bend and curve.
According to the Apple employees who spoke with the New York Times, the iWatch is expected to be launched at some point during the fourth quarter this year, which could be anytime from October to December, but we'll most likely see it in October. This is when Apple announces a lot of new products.
The October timeline sounds pretty logical to us, but it is still something that's very much up in the air. However, it's said that Apple's smartwatch will go into production somewhere around July or August, which could very well indicate a fall launch for the device, since the iPhone 6 is expected to be put into production around that same time frame. This also goes along with past rumors that mention a late 2014 release.