iWork for iCloud Beta Open to All: Free Pages, Numbers & KeyNote
Apple has finally opened up its Beta for iWork for iCloud, a collection of web enabled applications that allows users to create and edit documents from their web browser.
Users looking to edit files created in Apple's desktop iCloud suite of apps, only have to head to iCloud.com, the same site that allows them to track and manage their Apple devices. Both iCloud and iWork for iCloud are free however, the service will need to be activated on a device with the user's Apple ID, before they can begin using iCloud for the first time.
iWork for iCloud, which includes versions of Pages, Keynote and Numbers will use the free storage provided by iCloud to allow user to store their documents online and have them sync across their iCloud enabled devices. This effectively gives users access to their documents anywhere. It's a feature that isn't all too different from the web-centric Google Docs. With that service all documents are saved online, though users can save them to their hard drive manually if they need to.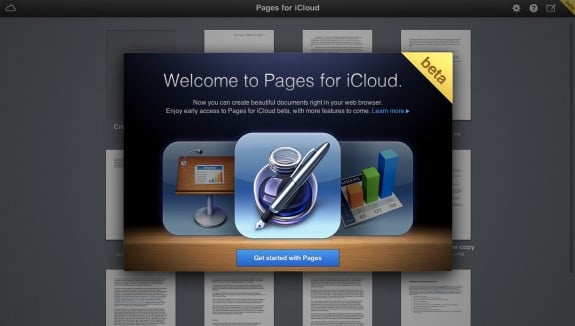 Read: Apple Finally Brings iWork Suite to Windows via iCloud
Today's open release of iCloud could act as a catalyst for users looking to step away from Microsoft's Office for Mac. Together with SkyDrive, Office also syncs user's documents across devices and makes them available anywhere. Microsoft even syncs these documents to mobile versions of its application and Office 2013 on Windows PCs. Unfortunately, deep SkyDrive integration for Office for Mac has yet to materialize.
With iWork for iCloud being made freely available to all users, it's likely that Apple could stop charging users for mobile versions of iWork on the iPhone and iPad. Screenshots from an early beta version of iOS 7 hinted that users would be able to download free versions of Pages, Numbers and Keynote for their iPhone, iPad and iPod Touch.
Read: Apple to Steal from Microsoft, Include iWork in iOS7 for Free?
Unfortunately, it's unclear if these will be the same fully featured mobile applications, or simply scaled down versions that users have to pay Apple to get more functionality for. As each app in the screenshot included the exact name of each application without any "free" or "iCloud" name attached, it's likely that Apple will simply just stop charging users $9.99 for each app.

As an Amazon Associate I earn from qualifying purchases.