Jabra Eclipse Bluetooth Headset Review
If you're looking for a really great bluetooth headset to talk on the phone hands free without using speakerphone, the $129 Jabra Eclipse Bluetooth headset is worth checking out.
There's a lot of stigma facing Bluetooth headsets, and it's a stereotype that has been featured in movies and TV shows for years; the jerk boss always wearing his Bluetooth headset with his fancy suit and watch, which only makes the stigma stronger in the real world.
However, you can't deny that Bluetooth headsets are incredibly useful when they need to be, whether you're driving in the car or you otherwise have your hands full, you can talk on the phone with someone without having to put the call on speakerphone and having the world around you forced to listen to both sides of your conversation.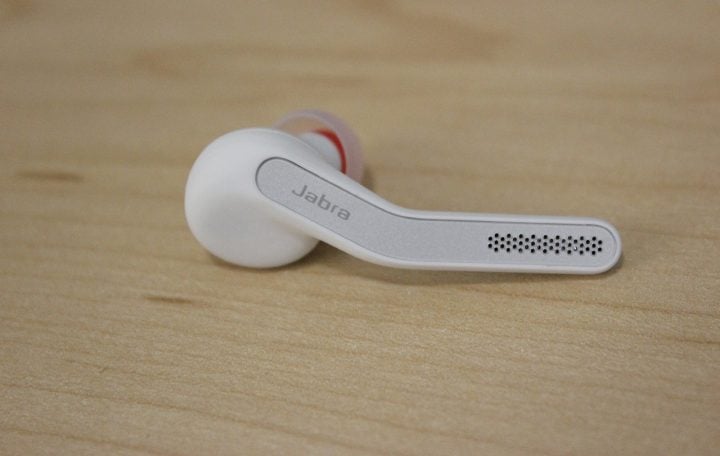 Bluetooth headsets have been around for years, but the technology has gotten better and better. The Jabra Eclipse is an example of what a modern Bluetooth headset can offer.
The headset comes in two parts. There's the actual headset that — believe it or not — doesn't come with any buttons or ports, and then there's the headset's cradle, which is an egg-sized half sphere that you store the headset in to charge it up, and it has a button on the bottom to pair with your smartphone.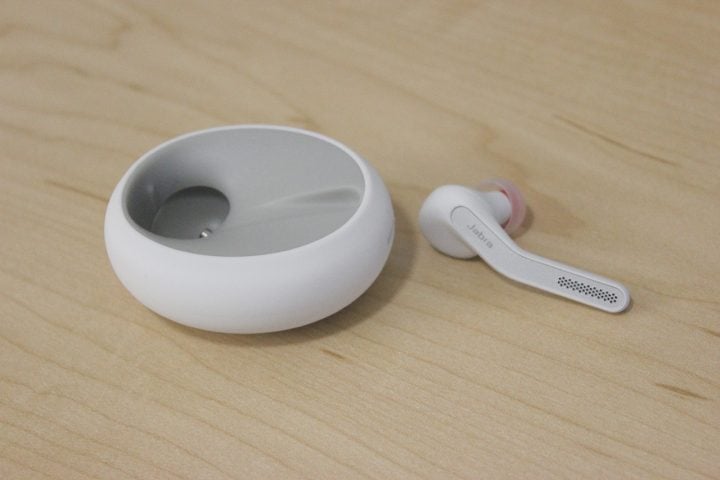 The headset relies on taps, and that's what you use to answer and hang up on phone calls. You can even tap once to hear the remaining battery life left, and tapping twice will answer or hang up a phone call, as well as activate Siri, Google Now, or Cortana when a call isn't coming in. These taps took a bit to get used to, and you have to tap a bit harder than you might think, but eventually you'll find a sweet spot.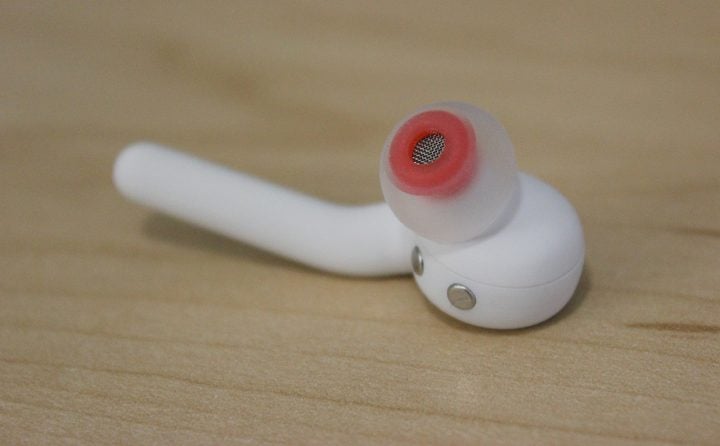 The headset charges using two small metal contacts that are magnetized, making it extremely easy to place the headset in its cradle perfectly every time.
What I like best about the headset/cradle combination is that there's no need to carry around a charging cable and awkwardly plug in the headset itself. Instead, I can have the cradle with me and keep it in the car or in my bag, and if I need to charge up the headset, I just slap it in its cradle and its still portable and easy to get to if I need to make a phone call.
For instance, when I'm not using the headset, I can have it charging in its cradle, but when I get a phone call, I can quickly grab the headset (which will automatically reconnect to my iPhone within seconds) and then double-tap on the touchpad to answer the call. When I'm done, I can double-tap on the touchpad to hang up and then put the headset back in its cradle to recharge, or just keep it in my ear.
The headset lasts about three hours on a single charge, and the cradle can provide an additional 10 hours of battery life, so depending on how much you use the headset, you could easily go at least several days without needing to recharge the cradle's internal battery.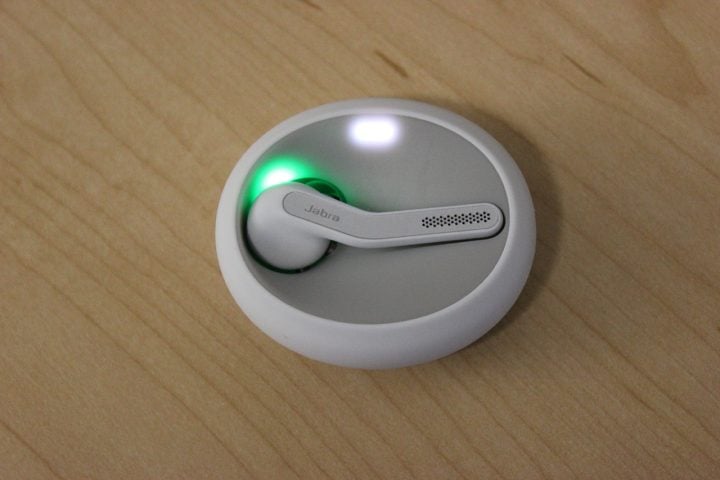 The headset comes with an accompanying app called Jabra Assist that you can use if you want, but it's not required to have. It comes with a setup guide, battery meter, and a cool feature that records the location of your headset in case you ever lose it and need to find its last location.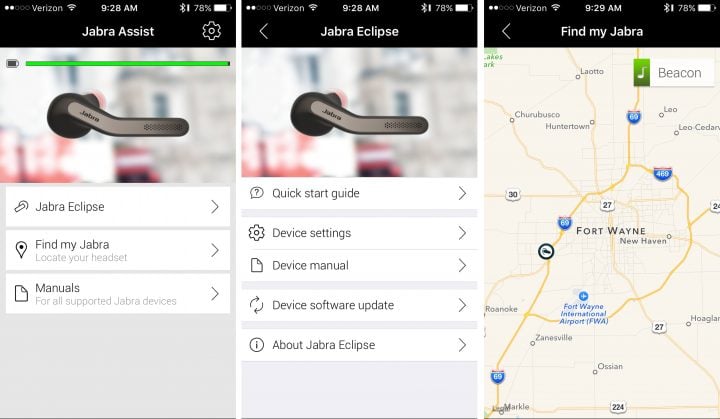 Call quality (this is likely what you came here for) is pretty great and there's nothing to really complain about. Thanks to the in-ear headphone style of the headset, you can hear the other party talk loudly and clearly. While you might be asking where the volume controls are, there aren't any, as the headset automatically adjusts the volume for you based on the ambient volume of your environment.
This is a pretty cool feature and one that worked rather well. In a dead-quiet room, my calls weren't too loud or too quiet, and when I was in louder environments, like in a car or a room with a fan running, the volume still sounded great, and I never once wished I could turn up or down the volume of a call.
As for the comfort of the Eclipse, I strongly suggest that you experiment with the differently-sized earpieces that you can switch out and try out a couple for an hour each or so, then choose the best one. I think I'm between sizes, because the smaller one felt a bit uncomfortable and I couldn't get a snug fit easily, but the larger one felt too large and was stretching out my ear almost.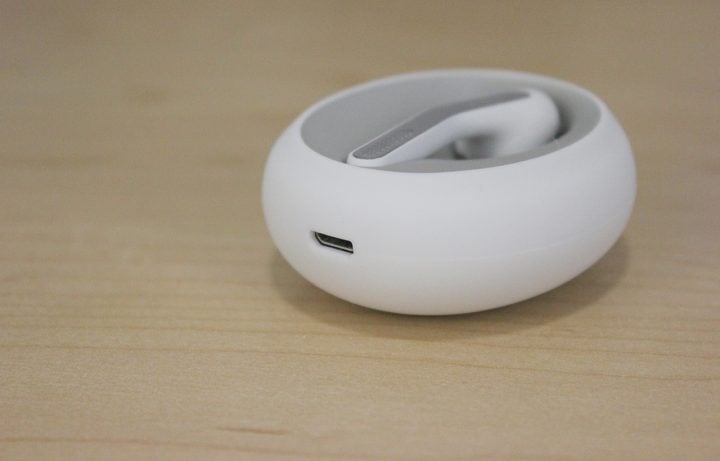 Of course, that's not a knock against Jabra by any means, and there are bound to be other users who come across a situation like this.
While many users would mostly take advantage of Bluetooth headsets while out on the go and in the car, I found it to be really useful while simply at home, whether I'm working on my computer and need both hands to type, or calling up my dad to ask him a question about a tricky electrical problem I'm having and want both hands free to work on it while I chat with him.
Overall, the Jabra Eclipse is not only a really good Bluetooth headset, but it's also a convenient one to use, and its charging cradle is something that makes the headset so unique.
$129 can be a tough pill to swallow for a headset, but if you'll be using it everyday, then it's a cost that's worth it over the long run.

As an Amazon Associate I earn from qualifying purchases.