Jabra Sport Pulse Wireless Headphones Review
Whether you're serious about your fitness or are really just looking for a good pair of Bluetooth earbuds in general, the Jabra Sport Pulse Wireless headphones should be considered.
Wireless earbuds are becoming more mainstream, and we're slowly moving away from those ugly wireless earbuds attached to a necklace device and toward truly wireless earbuds with just a wire connecting the two earpieces.
In fact, it wasn't long ago that if you wanted wireless headphones, you'd have to settle for over-the-ear models, as wireless earbuds were pretty rare. However, that has quickly changed, and wireless earbuds are becoming more popular.
Jabra's Sport Pulse wireless earbuds take things to a new level. These are $200 headphones that come with a built-in heart rate monitor and motion sensors, on top of the Bluetooth capabilities.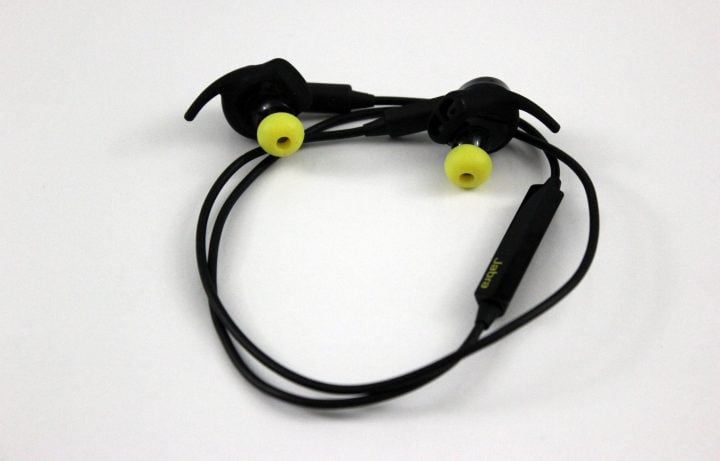 The Sport Pulse headphones come with two earpieces that are connected via a foot-and-a-half length of cable, with an inline microphone and buttons for controlling music and even activating Siri or Google Now. The headphones also have removable rubber earpieces that come in different sizes, as well as removable ear hooks that come in different sizes as well. I recommend trying a combination of all the sizes to find a size combo that fits you well. This is worth it to do, so take your time and have some patience with it.
Once you find a good size for your years, the headphones fit super snugly without being uncomfortable, which is crucial when you're working out and doing all sorts of different exercises, as these puppies won't work themselves loose. The biggest problem that I've had with Bluetooth earbuds in the past (including the popular Jaybird Freedom buds) is that they usually become loose over time while I'm running or doing some other exercise. However, the Jabra Sport Pulse headphones stayed secure in my ears the entire time, which makes them worth using just for that feature.
In the left earbud is a heart rate monitor, which uses oximeter technology to get a heart rate reading from the inside of your ear.
On the other earbud, there's the same dedicated space for a heart rate monitor, but instead of that, there's a microUSB port hidden away under the rubber piece that you can flip back. I have to say that the design of these headphones is pretty clever, and the way Jabra managed to hide away the charging point while it's not in use is pretty cool.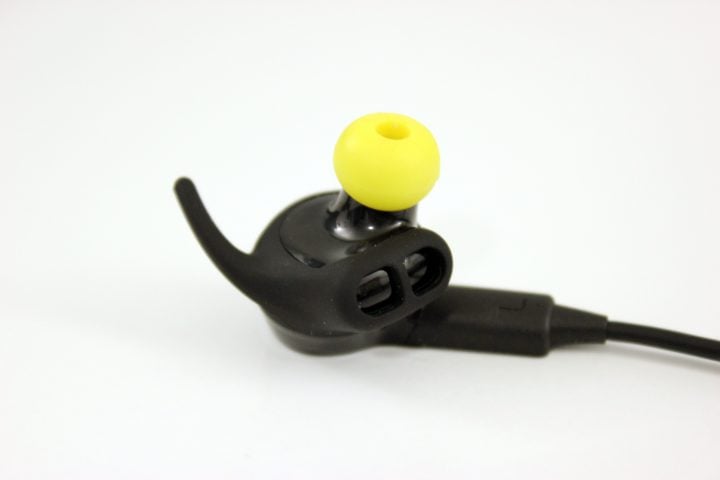 The Sport Pulse headphones are water resistant, which they kind of need to be if you'll be working out in them, since they'll be exposed to all kinds of sweat, but they'll stand up to the rain if you happen to get caught up in a storm while you're out running.
The sound quality of the Sport Pulse headphones is pretty good. I'm no audiophile by any means, so I can't really comment on the technical qualities, but I will say that music is crisp and the highs and mids are great to listen to, even at higher volumes.
The headphones do have a lot of bass, but that's really only accomplishable if you have a snug and tight fit with the headphones. I discovered that after I fit the earbuds in, I would have to push them into my ear a bit more to get a good seal. After that, the bass was really rocking.
It took forever to figure out how to put the headphones in my ears. Jabra includes a video guide on how to fit them, but it actually wasn't helpful at all. The bulge that the heart rate monitor makes made it really confusing as to how exactly the headphones were supposed to go in.
Luckily, I eventually figured out my own way of easily fitting the earbuds into my ears perfectly every time. I started with the heart rate monitor part pointed back, slid the earbuds into my ears, and then rotated the earpieces clockwise to "lock" them in.
The headphones work with the accompanying Jabra Sport Life app (iPhone and Android), which is a full-fledge fitness tracking app that natively supports the Sport Pulse headphones. It tracks your heart rate and can use that info to give you feedback during work outs, telling you to pick up the pace if your heart rate isn't fast enough.
The app determines your ideal workout heart rate by having you go through a few tests first that determine your resting heart rate, as well as your max heart rate. It then uses that information to know what a good target heart rate that you should shoot for when working out.
The app can track a variety of different workouts, like running, cycling, walking, and even activities like skiing, skating, and hiking. From there, you can set a goal, such as a distance or time, or even set a target heart rate to shoot for, like 80%-90% of your max, or if you just want to take it chill for a day, you can set a 50%-60% heart rate goal.
Of course, you likely already have a fitness app that you use, so if you'd rather use another fitness app besides the Jabra Sport Life app, the Sport Pulse headphones work well in other apps, including Endomondo, RunKeeper, MapMyFitness, and Strava. You can set up the heart rate monitor to work within these apps.
Overall, the Jabra Sport Pulse headphones are really nice, and while I feel that most casual users who work out likely don't need the heart rate monitoring, they still make great fitness headphones.
However, $200 is a hard pill to swallow for a pair of earbuds, but Jabra offers cheaper options, like the $150 Sport Coach and the $100 Sport Pace. There's also the Backbeat Fit from Plantronics for $90.