Jailbreakers Hack iOS 5 Notification Center, Adds Working Custom Widgets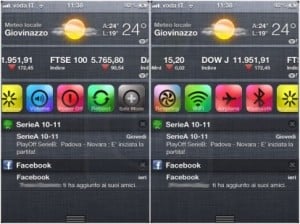 Just shortly after developers have tackled Apple's new Android-styled Notification Center to create a proof-of-concept widget that merely displays 'Hello World,' hackers now have attacked Notification Center to bring fully-functional widgets to iOS 5 via jailbreaking.
In addition to the standard Apple pre-loaded weather and stock ticker widgets, developers have now added a third row of widgets to Notification Center that brings quick access to toggle settings like airplane mode, WiFi, screen brightness, and more. The toggle controls are reminiscent of Samsung's widgets on its proprietary TouchWiz UI that's bundled on Android smartphones. For example, on the Droid Charge for Verizon Wireless, when a user pulls down the notification drawer, they will have access to toggle buttons for WiFi, Bluetooth, GPS, mobile data, and auto rotation toggles; notifications are shown just below this row of toggle controls on TouchWiz.
Though Apple had announced the new Notification Center and widget support for iOS 5, which is currently in developer beta, the company had not announced support nor an SDK allowing third-party developers a way to create their own widgets for iOS 5.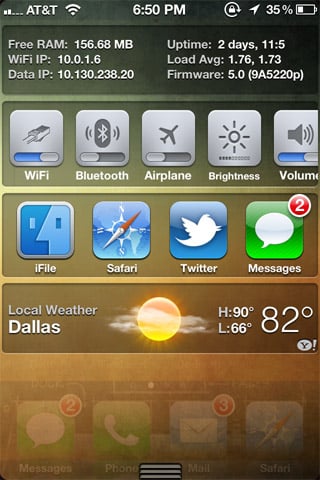 Still yet, developers have also been able to create more unofficial functionality for widgets on Notification Center, including creating quick-launch shortcuts, allowing users to quickly open Mobile Safari or Twitter, for example.
In addition to being able to unofficially launch widgets on iOS 5, developers have also found a way to adjust the background and opacity of the Notification Center pull-down. Instead of the slate grey linen-styled background, developers can now change the color and make the pull-down translucent.
It's unclear if Apple will enable more functionality out of widgets or customizations of Notification Center, but for now, there has been strong interest from developers and users on creating a more personalized iOS 5 experience. This strong push for custom widgets ahead of official iOS 5 support, if and when that happens, perhaps indicate that the jailbreaking community is here to stay for a while.
Via 9to5 Mac

As an Amazon Associate I earn from qualifying purchases.