Jambox Review: Loud, Portable Bluetooth Speaker
When I first heard about the Jawbone Jambox I was skeptical about the value of a $200 bluetooth speaker and speakerphone.
After using one for the better part of three months I'm sold on the value it provides, especially considering you can often find the units on sale for $99 to $150.
The Jawbone Jambox is a about 6 inches long, 2 and a quarter inches tall and an inch and a half thick, which is to say it is very portable, and at 12 ounces it's pretty light too. In fact, you can get a free chain to wear it around your neck Flava Flave style if you are inclined.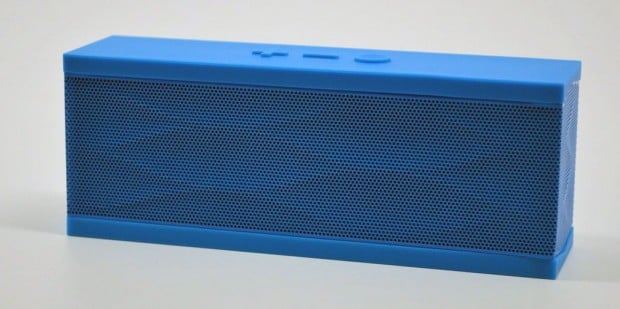 There are three buttons on the top of the device which turn the volume up and down and can activate Siri or the call function of your phone. On the side there is a power button that doubles as an easy to use pairing button, a 3.5mm headphone jack and a Micro USB connection for charging.
Available in a range of colors, the Jambox is great for taking out and about with you — and thanks to the 85db output it can fill up your hotel room, annoy those near you at the park and much more. The battery has a 10 hour rating and I found that tis pretty close to the real world use, allowing me to use the Jambox for a few days and charge it up when I want to.
I sought out the Jambox because I love to listen to music and audiobooks in the shower and on the road. Yes. In the shower. Smartphone speakers are barely heard over the water of a shower, and I don't need something else with cords in the bathroom.
The Jambox connects over Bluetooth, allowing me to keep it and my phone safely away from water. The volume is more than loud enough to be heard over the shower and I'm impressed with the sound quality. While an audiophile friend gave a snobbish look at the unit when I filled the coffee shop with music it is certainly good enough for the masses. There is very little distortion even if you turn up bass heavy music all the way. You won't confuse this with a 2.1 system that has a subwoofer, but there is enough of the low end to help me enjoy my music more.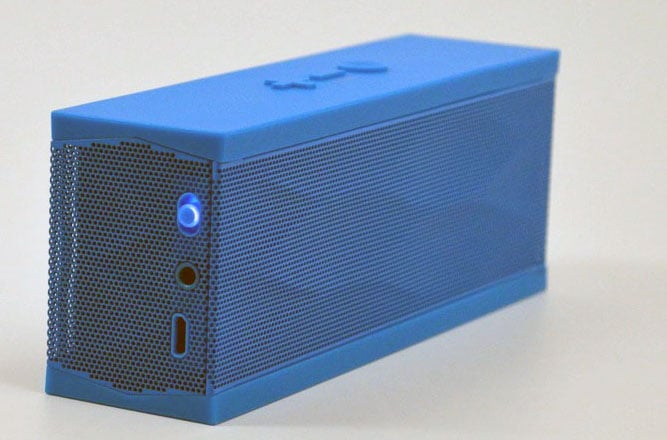 From listening to Audible and Pandora to getting more out of movies on Netflix the Jambox is a great Bluetooth accessory. This doesn't stop with your Android or iPhone's entertainment. You can also pair it to Mac or Windows via Bluetooth so that you can bypass the crappy speakers that are in your computer.
The Jambox is made by Jawbone, which is known for bluetooth headsets and speakerphones, so it's only right that you can use this as a speakerphone when connected to your computer or phone. Call quality is acceptable, but callers on the other end report a static sound or a muffled hiss. Callers sound good on the Jambox, and I choose to use this over the built in speakerphone on my Galaxy Nexus.
The $199 price of the Jambox may deter some buyers, but if you want a nice wireless audio solution that can go anywhere you do, this is the best product I've found. You can find the Jambox at Amazon for $180, and deals throughout the year.

As an Amazon Associate I earn from qualifying purchases.