James has a Samsung Q1 with the SSD!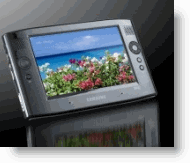 Okay, I admit it, I am very subject to fits of jealousy, and I am having one of those fits right now. James Kendrick over at jkontherun has had a little "gift" (albeit a temporary one) dropped on his doorstep that is driving my little hissy fit of jealousy. Here is a blurb of what James had to say:
Be vewy, vewy quiet. Hear the hard drive spinning? Me neither, because the Samsung Q1 SSD that appeared on my doorstep today doesn't have a hard drive. The SSD stands for Solid State Disk and this baby packs a 32 GB SSD in place of a regular hard drive
How does this guy get this stuff? I may need to make a pilgrimage to Mobile Tech Manor to sit at the feet of my hero and study his methods of acquiring goodies! Okay JK, now you have to do something special like a nice set of benchmarks, etc., just to make me even more upset. The gauntlet has been thrown! Do not disappoint me.
Check out James' post on this here

As an Amazon Associate I earn from qualifying purchases.