January 21st Windows 10 Reveal Confirmed 
Speculation over what could and could not make it into the next major release of Windows, Windows Phone and Microsoft's Xbox One console will come to an abrupt end on January 21st. That's when Microsoft has scheduled its reveal event for what every day users will get when they upgrade or purchase a phone, tablet, notebook, desktop, Lumia,  Xbox One or Surface that comes equipped with Windows 10.
Tipsters have said that Microsoft was planning a mid-January final reveal of Windows 10 for weeks, but today's blog post at Blogging Windows is the first time Microsoft has talked about the event publicly.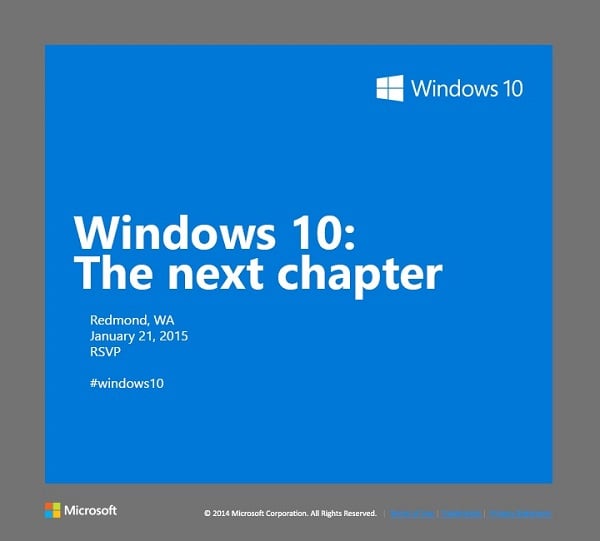 "We will be holding an event here on Microsoft's Redmond campus where we will talk about the next chapter of Windows 10," the short blog post reads. Members of the press will be allowed to attend in person. Microsoft says it will also offer a stream online for everyone at home to enjoy. That's a signal that what we'll see from this event is indicative of the final Windows 10 experience.
Microsoft's invitation for the event doesn't reveal a lot about what it plans to show off within the scope of Windows. It just invites those who are interested to find out what "the next chapter" of the Windows story will be. We can assume that everything the company has planned across all devices will take center stage. CEO Satya Nadella will make an appearance. So too will, Terry Myerson and Joe Belfiore. Those two are in charge of the Windows 10 experience on tablets, notebooks, desktops and smartphones. Xbox Head Phil Spencer will speak too, indicating Microsoft has plans to reveal or at least talk in-depth about how Windows 10 will power new experiences on the Xbox One.
Separately, All About Microsoft's sources say that the full line up of Windows 10 will be on display at the event.
During or shortly after the event Microsoft will release the Windows 10 January Technical Preview, reportedly. This version of Windows 10 will include the things that we expected to see, like the Cortana personal assistant and the Continuum interface that'll mix elements of the Start Screen and the Desktop for convertibles like the Surface Pro 3.
Their sources also indicate that Microsoft will show off the new mobile version of Windows 10 taking over for Windows Phone 8.1 and Windows 8.1 RT. Allegedly, this version will drop the Desktop interface entirely. That'll be a big change for users of RT devices like the Surface 2 and original Surface. Those are Microsoft's iPad competitors.  We haven't heard or seen much of anything about the mobile version of Windows 10 yet. Word of looming Windows 10 mobile news couldn't have come at a better time for Windows Phone. With Microsoft making many of experiences available on iPhone and Android these past few weeks, switching to one of those platforms instead of purchasing a Windows Phone has become somewhat of a hot topic in the Windows Phone community.
Read: What is Windows 10?
We already know a lot about the Windows 10 experience for some users. Those who have devices with a mouse and keyboard can expect the Start Menu to make a triumphant return with this release. To be clear, this isn't the Start Menu from Windows 7; it's been updated with a new flat look and Live Tiles. Windows Store apps opened on a PC with just a mouse and keyboard will open in the Desktop alongside traditional apps like iTunes.
Leaks indicate that Cortana, the personal assistant that debuted with Windows Phone, will come to everyone with Windows 10. An integrated Search button and experience will replace her for those users in markets where she's not yet available. Other Windows Phone 8.1 features like Storage Sense and Battery Saver will make their debut in Windows 10 too.

As an Amazon Associate I earn from qualifying purchases.