Jawbone Mini Jambox Arrives with Big Sound in a Small Package
Jawbone has announced the Mini Jambox, which is a smaller and lighter brethren of the original and Big Jambox that the company released a couple years ago and last year, respectively. The speaker is just a little over six inches long and less than an inch thick, and it's meant to be a traveling companion that you can easily throw into your bag when you're on the go.
The Mini Jambox costs $179, which is slightly cheaper than the $199 that the original Jambox costs (or even the $299 for the Big Jambox). It's a Bluetooth speaker, so it can play any piece of audio wirelessly from your mobile device, including music, TV shows, movies, games, and even phone calls, with the ability for the Mini Jambox to act as a glorified speakerphone of sorts.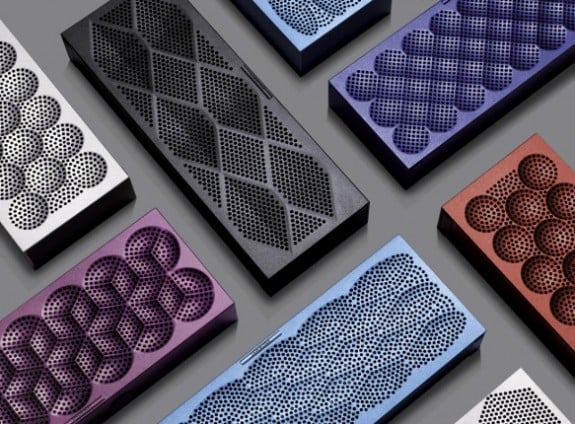 The Mini Jambox's design is similar to that of other Jawbone products, with the solid aluminum shell and a variety of colors and styles available. The Mini Jambox charges using the built-in microUSB port and it can last for up to 10 hours of continuous audio playback on a single charge, with 75 hours of standby time. Easy-to-access buttons on the top provide play/pause and volume controls, and an audio-in part allows you to plug directly into the speaker if you don't want to use Bluetooth.
The speaker will work with any mobile device with Bluetooth, but iOS and Android users will be treated with the new Jawbone app in the Google Play store and iTunes App Store. This will let users remotely control the Jambox's options, as well as quickly access various music apps, such as Rdio, Spotify, and iTunes. Jawbone is marketing the Mini Jambox as a device that can be quickly set up in seconds so that you can start using it at a moment's notice.
Jawbone was one of the first companies to deliver a great-sounding Bluetooth speaker a few years ago, and they were one of the few that made Bluetooth speakers so popular. Of course, tons of companies are making them now, but Jawbone has continued to stand out as one of the elites when it comes to Bluetooth speakers. While the Mini Jambox might not pack quite the punch as larger speakers with bigger drivers, it should still deliver quality audio that doesn't make it sound like it's coming out of a tin can.
No word on availability, but the Mini Jambox is available for pre-order right now.

As an Amazon Associate I earn from qualifying purchases.