Jim Forbes on Mobile Tech and the California Fires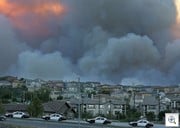 The fires in California are certainly a major disaster, uprooting so many from their homes and causing astounding devastation. I've been following Jim Forbes for some time on his blog ForbesOnTech, since we hooked up awhile ago for this GBM Podcast. Jim had to evacuate his mountain top home in San Diego, and in true form has been blogging his preparation, his experiences at the evacuation center, and how he has been using his mobile tech arsenal to cope. A fascinating, peronsal look at a disaster so many are going through.
Check out his thoughts and observations here and here. You can also read an interview about how his mobile tech kit (he uses a Lenovo ThinkPad X60) held up on NetworkWorld.

This article may contain affiliate links. Click here for more details.