jkkmobile Adds 3G to the Aigo MID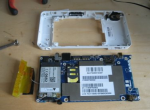 Not content to just mod Netbooks, jkkmobile has turned his hands to modding up the Aigo P8860 MID. In this case he adds in a 3G HSDPA module. Remember, jkk never met a device he couldn't mod.
That said, and maybe it is just me, but it seems, but doesn't it seems like something called a Mobile Internet Devcie should come with 3G connectivity as part of the standard feature set? I'm just asking.


As an Amazon Associate I earn from qualifying purchases.