jkkmobile Shows off the GigaByte Touch Note M1028 on Video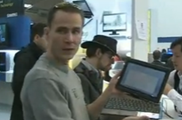 I've been waiting for good friend jkkmobile to post this video from CeBIT. The GigaByte Touch Note M1028 like the Asus Eee PC T91Go offers a convertible touch screen in addition to its Netbook goodness. Obviously we aren't looking at multi-touch here, and indeed jkk says we've got a soft touch screen on the Touch Note.
Makes me hungry for info on what the Netbook makers are going to do once Windows 7 arrives.  Check out the video after the jump.

This article may contain affiliate links. Click here for more details.