Job Listing Points to Possible iPhone 5 Release Date
Consider this a long shot but it appears that we might finally have a specific date to circle in our mental calenders as far as an iPhone 5 release date is concerned. CNET UK has stumbled upon a job posting for an iPhone Sales Specialist on an employment website called Reed which asks for a "full-time iPhone Sales Staff for an exciting project to work 5 days a week (Tuesday-Saturday) for the period 16th August – 29th October within key retail stores."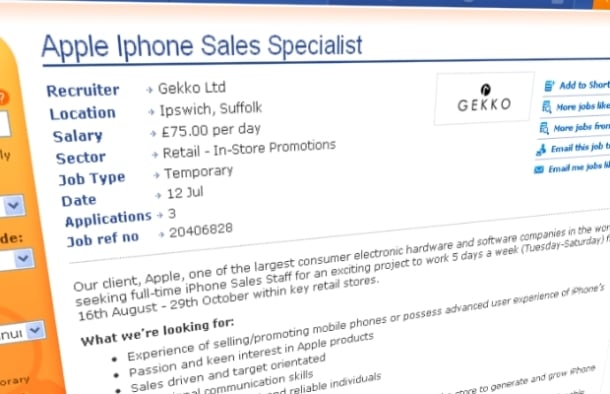 The job, which is listed by a  recruiting company called Gekko, calls for a four-day training session to take place in London during the days of August 9th to August 12th in order to, presumably, prepare for the event that starts, again presumably, on August 16th.
If you recall, just about every single rumor points to the iPhone 5 coming out in the fall but it looks like there is a possibility that it could arrive much sooner if this event is indeed for the next-gen iPhone.  It's also possible that it could come anywhere during that entire window as well but we'll stay optimistic.
I'll also point out that it makes sense considering Apple is going to want to take away as much steam as it possibly can from the Motorola Droid Bionic which is supposed to launch in early August.
For now though, it's just a rumor but definitely one that has some credibility.

As an Amazon Associate I earn from qualifying purchases.