JOBY GripTight Micro Tablet Stand Review
If you're looking for a versatile tablet stand, then perhaps the $50 JOBY GripTight Micro for small tablets is something that you're looking for.
JOBY is well-known for its GorillaPod flexible tripod, allowing you to bend the tripod legs in order to wrap around poles and other oddly-shaped objects. It's great for when a traditional tripod just won't cut it, and its portable size makes it great for traveling.
The GripTight has been available for a while now as a smaller smartphone version, allowing you to fit in pretty much any smartphone, including bigger phones like the iPhone 6 Plus if you get the GripTight XL.
From there, the accessory has a tripod screw hole that you can then attach to any tripod or use JOBY's own Micro Stand (included in the GripTight Micro package), turning the GripTight into a great smartphone stand.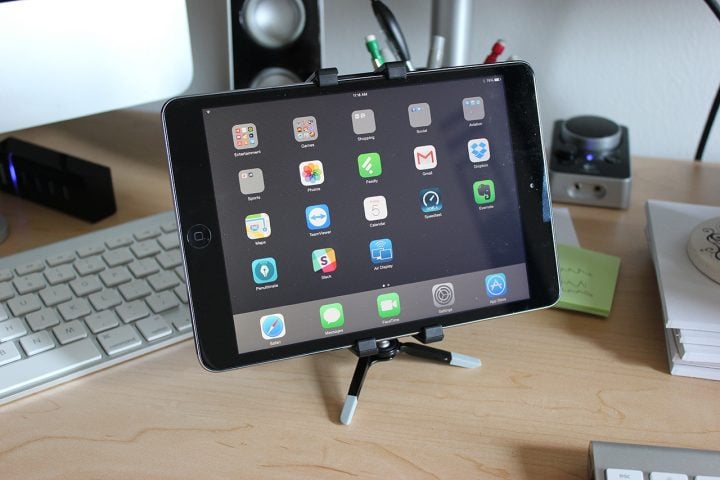 Unfortunately, an option like this wasn't available for smaller tablets until just recently, as JOBY introduced the GripTight mount for small tablets like the iPad mini and Samsung's Galaxy Tab line of smaller slates.
The GripTight works simply, yet it's quite a fantastic piece of engineering. It includes a spring-loaded expandable clamp that you can slide your tablet into and then attach to any tripod or stand. It also can fold up and easily fit into a back pocket or slide into a bag for easy and convenient portability.
When combined with JOBY's Micro Stand, the GripTight makes for an excellent tablet stand to have on your desk or while traveling to watch movies on, and the ability to fold it all up and take it with you makes it one of the best tablet stands for such occasions.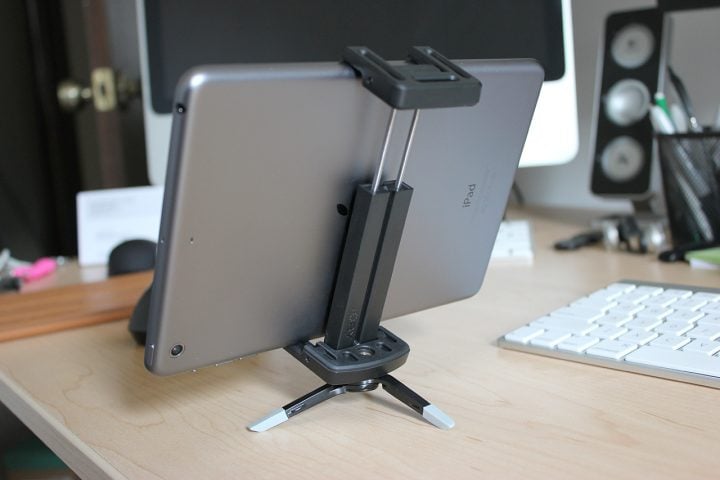 The GripTight for small tablets is simple to use. Just flip out the two prong pieces on either ends (you'll feel them snap into place), and then you can screw it on a tripod or the Micro Stand itself. From there, pull up on the top prongs to expand the clamp, slide your tablet in, and carefully release the clamp so that it can grip the device and hold it in place.
One thing to note is that it's a bit wonky to use at first and takes some getting used to. For instance, you kind of have to hold down the stand or whatever the GripTight is attached to when you pull up to expand the clamp. At that point you're already using two hands, so you kind of need a third hand to slide your tablet into place.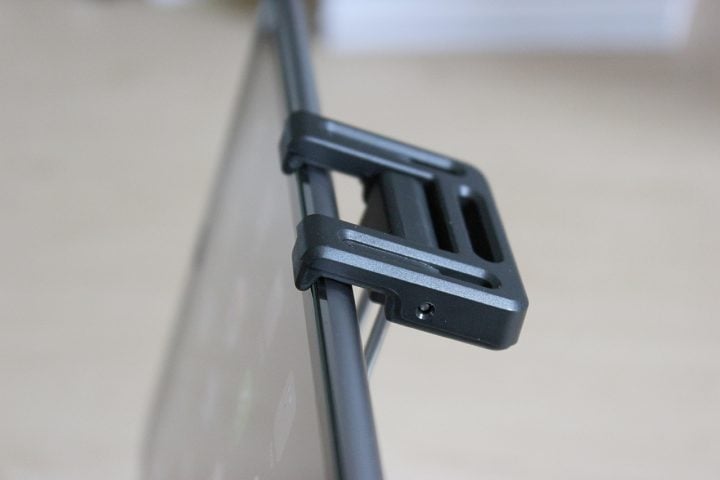 With that said, you have to get a little creative with it. What I like to do is begin placing my iPad mini on the bottom prong set, push down, and then lift up the top of the clamp to expand it. Then I can easily slide my iPad mini into place and release the clamp.
One big gripe I have with the Micro Stand is that you can't really adjust the viewing angle. You can adjust it ever so slightly, but even then it might not be as steep of an angle as you want. Granted, it's been fine for me so far and how I use it, but I got to thinking how other users might want better adjustment of the viewing angle when using the GripTight Micro.
As for what tablets can be used with the GripTight, JOBY says that any tablet up to 5.5 inches wide can be used with the stand. This includes the iPad mini, Samsung's Galaxy Tab 4 7.0, Sony's Xperia Z3, Kindle Fire HD 7, and the Nook HD just to name a few.
However, it's important to keep in mind that even though these tablets do fit, they might not fit if they're equipped with a case. For instance, my iPad mini with the Smart Case wouldn't fit in the GripTight, so make sure you take the case off first before using this accessory. Otherwise you'll be disappointed.
At $50, the GripTight Micro for small tablets is a hard pill to swallow when it comes time to buy, but it's well worth the price if you plan to use it often, and the fact that it can double as a tripod mount makes it worth even more, especially if you take a lot of photos or videos on your tablet.

As an Amazon Associate I earn from qualifying purchases.