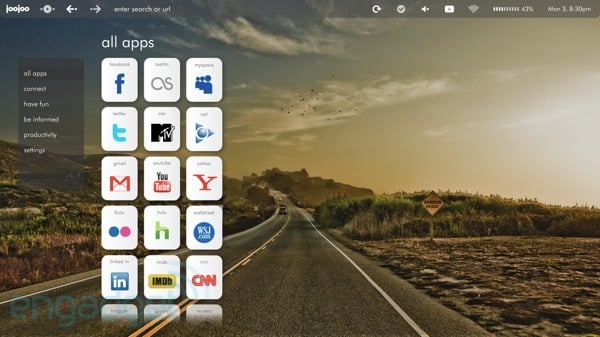 The JooJoo Tablet is apparently still on schedule to ship on March 25 after a delay caused by issues with the capacitive touch screen. I'm still not holding my breath on that ship date, but we'll see. In any regard, FusionGarage apparently has been hard at work and has made some tweaks to the UI.
According to Engadget, the all web, all the time Tablet, now sports a different look for the home screen and new gesture controls. For example there is now both a one finger pan and a two fingered scroll so that users can work with web apps like Google Maps easier. This is now native the UI instead of just a control within the app.  You've now got two keyboard options. One is smaller and can be moved around the screen to avoid covering data (I'm guessing there's no transparency control here). The other is a full screen multi-touch keyboard that allows pressing multiple keys at once. Flash is supposedly fully working. FusionGarage has also changed the case color from black to a champagne-like color (read more like the iPad).
So, I'm still waiting to hear from anyone who pre-ordered this thing.

As an Amazon Associate I earn from qualifying purchases.