JooJoo Specs Revealed by the FCC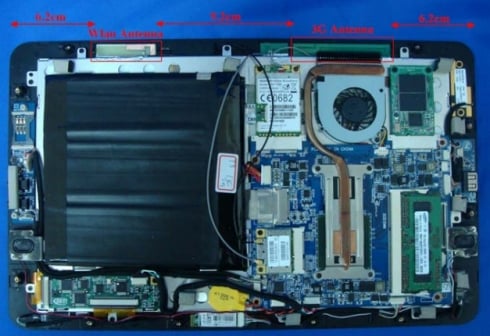 Despite the fact that FusionGarage hasn't bothered to let anyone in on what chips are running the JooJoo Tablet, we can now say, thanks to the FCC, that it will be sporting Intel Atom N270 and NVidia Ion Graphics.
Yep, the FCC spilled the beans. Intriguingly enough with the JooJoo relying on x86 technology I guess it isn't surprising that Wireless Goodness spotted a photo of a JooJoo running Windows 7.
In addition to the chipset specs, there was a 3G modem with SIM slot spotted, but the word so far in this mysterious and controversial Tablet's history is that 3G models weren't going to be available until later in the year. If FusionGarage sticks to the March 25 delivery, I'm guessing we'll know more soon.
Speaking of the FCC. We're not far from the pre-order date for the iPad. In fact, Apple has said that you can start pre-ordering at 8:30EST (5:30PST) on March 12, which is tomorrow. Maybe I've missed it, but I don't think we've yet seen confirmation that the iPad has FCC approval. And there is that little caveat at the bottom of the iPad page on Apple's website that says:
"This device has not yet been authorized as required by the rules of the Federal Communications Commission. This device is not, and may not be, offered for sale or lease, or sold or leased, until authorization is obtained."
I doubt it is a problem, but it is interesting given that the FCC usually outs just about everything before its time.
JooJoo news via Engadget and Liliputing


As an Amazon Associate I earn from qualifying purchases.