JoyFactory Monet iPad Stylus Review
Taking notes and drawing on the iPad is better with a stylus, and best with a great stylus.
Personal preference plays a large role in defining the perfect iPad stylus, but the JoyFactory Monet iPad stylus is as close to perfect as I've found, and I have half a dozen iPad Styli scattered around my house.
The Monet iPad stylus stands out from the competition in two key areas that elevate it to my go to iPad note-taking tool – length and a sensitive tip.

The Monet Stylus is nearly 7-inches long, almost 2 .5-inches longer than the average iPad stylus. This added length, combined with a great placement of weight combines for a great writing experience on the iPad. Granted, the usefulness still depends on apps, but I found that the added length and proper weight allowed me to better take advantage of the various palm rejection features in popular apps.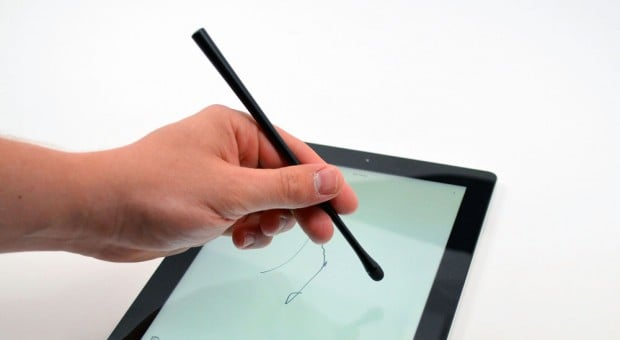 Why is it a better fit? Simple. The longer base and weight placement allows users to grip the stylus higher up. This means there is a lower chance of tapping the screen with a palm or errant finger, especially while taking longer notes.
In addition to the longer body, the rubber tip delivers above average performance. Joy Factory claims that the "super-sensitive rubber nib" works at a full 165 degree range, and while I'm not going to break out the protractor to measure angles, I can say it is the best "rubber nib" style stylus I've used.
Most iPad Stylus tips lose sensitivity on the edges, resulting in lost strokes. When taking notes on the iPad, this means illegible words and characters and lost time. Again, the performance isn't perfect, but the Monet iPad stylus helps me take notes faster than most other styli.
The sensitivity of the Monet stylus should interest iPad artists, and is complemented by the shape and slender frame. The extent of my drawing ends at poorly drawn Draw Something doodles, so I can't proclaim that this stylus will turn users into the digital Monet, but there is potential with the right drawing apps and skill.
I'm still not as fast at taking notes on the iPad as I am on paper, but the Monet iPad stylus allows me to take notes on the iPad faster than my previous favorite stylus, the Kensington Virtuouso iPad Stylus.
The Joy Factory Monet iPad stylus is available for $21.82 at Amazon and available in Charcoal, Green and Pink.

As an Amazon Associate I earn from qualifying purchases.