Jurassic World: 4 Things Viewers Need to Know
Jurassic World is releasing in theaters this weekend, and if you're planning on seeing the new film, here are four things viewers need to know.
Jurassic World is the fourth installment in the Jurassic Park franchise, and it's the first Jurassic Park movie to release in 14 years. The new film stars Guardians of the Galaxy's Chris Pratt and Bryce Dallas Howard as the main characters.
The movie, as you might have guessed, revolves around the daily operations of a dinosaur-themed amusement park featuring real dinosaurs, but after scientists cook up an interesting breed of a dinosaur, all hell breaks loose as it becomes more powerful than the park can handle.
Jurassic World is poised to be one of the biggest movies of 2015 and the hype for the film was supercharged based on the history of the previous Jurassic Park films, with the original 1993 movie being one of the most well-known movies that Steven Spielberg has ever directed.
If you're planning on heading to the theater this weekend to see the new Jurassic World movie, here are a few things you'll want to know.
Catching Up
While Jurassic World doesn't heavily rely on past Jurassic Park films, it's always a good idea to familiarize yourself with the previous movies in order to understand what the series is truly about.
If anything, just watch the first Jurassic Park movie, as it's arguably the best one in the entire series, with an 8.1 rating out of 10 stars, while The Lost World and Jurassic Park III both fall incredibly shy of that rating.
Overall, though, Jurassic World looks to be a complete reboot of the Jurassic Park series, so most viewers would probably be fine without any familiarity with the previous films, but it never hurts to watch the original movie to get yourself in the mood for more dinosaurs.
Jurassic World Reviews
If you're interested in reading some reviews of Jurassic World before head to the theater, you can check out ratings and read reviews on a number of websites and apps, like IMDb, Rotten Tomatoes, etc.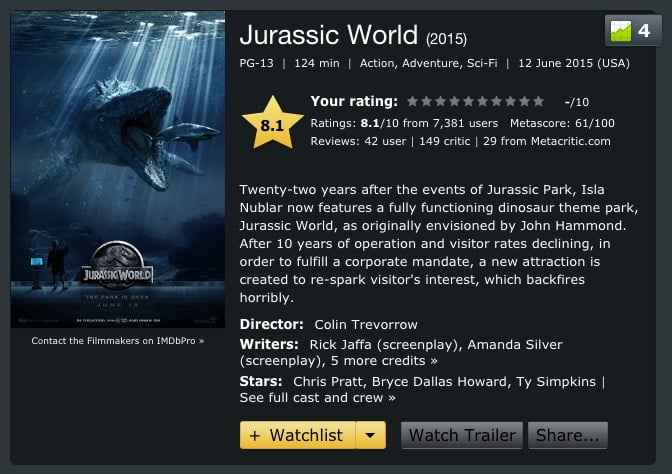 From there, you'll be able to see ratings and reviews from critics, as well as regular movie goers like yourself, that way you can get some details as far as what to expect when you watch the new movie.
Of course, it's always wise to take reviews and ratings with a grain of salt, as everyone's preferences are different, and what someone else thought of a movie might be completely different from what you think. It's best to glance at reviews and ratings, but don't let them change your expectations as a whole.
Buying Jurassic World Tickets
If you hate waiting in line at the movie theaters to buy movie tickets, you want to know that you can easily buy movie tickets right on your smartphone.
The Fandango app is incredibly popular for frequent movie goers, but not many people know that you can use the app to buy movie tickets and either pick them up at the theater at will-call, or scan them on your phone without even going up to the ticket counter.
You can buy tickets in Fandango, and even use the app to look up showtimes for movies, as well as get more information about other movies that you're interested in seeing.
Getting to the Theater
Of course, perhaps one of the most important things to know is getting to the movie theater on time, and to do that, you may want to use navigation on your smartphone.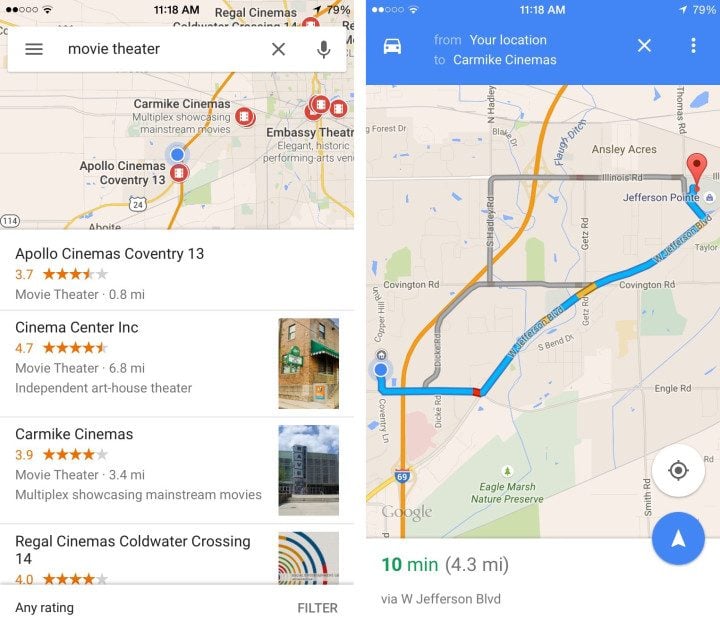 Most likely you already know where the nearest movie theater is in your city, but if you're coming from an unfamiliar area or are out of town and are wanting to go see Jurassic World, it's likely you don't know your way around. Plus, the nearest theater may not be playing Jurassic World at a convenient time, so you may have to visit the one across town.
Google Maps is a great app to have for such occasions. You can search for a movie theater near you (either by typing it in or using voice search in the app) and then get turn-by-turn directions. Plus, Google Maps will give you an estimate on when your arrival time will probably be, so you can figure out if you'll have time to get popcorn and a soda before you even get there.

As an Amazon Associate I earn from qualifying purchases.