Just Cause 3 Release Date: Which Edition Should You Pre-Order?
The gorgeous island nation of Medici is under attack. There is no invading army though. Rico Rodriguez is back from his stint working for a government covert agency. He is trying to topple Medici's ruler, a blood-thirsty dictator General Di Ravello. Just Cause 3 is an adventure game coming to the Xbox One, Sony's PS4 and Windows PCs this year.
As one might guess, freeing Medici takes some ingenuity. Players will get the opportunity to blow up almost everything around them in effort to disrupt the island and knock its government off-balance. Oil refineries, planes, vehicles anything that stands in Rodriquez's way is fair game.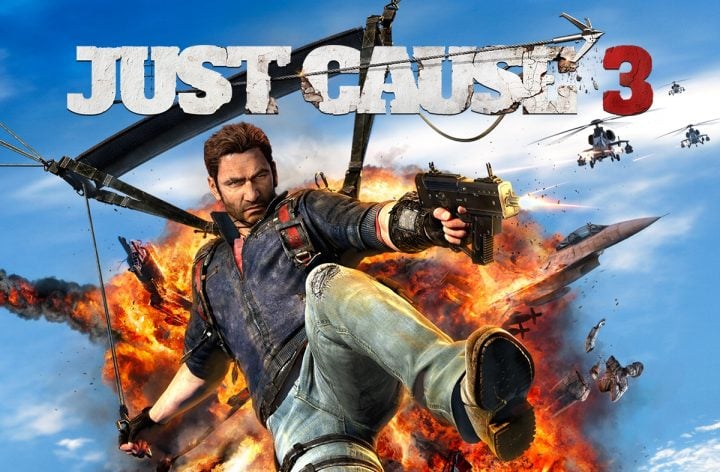 Read: Just Cause 3 Release – 5 Reasons to Get Excited
Here's what you need to know ahead of the Just Cause 3 release date, including the pre-order bonuses you can expect from different retailers. With this information, planning your Just Cause 3 purchase should be a little easier.
The Just Cause 3 Release Date
Officially, the Just Cause 3 release date is December 1st. That's roughly a month from today, giving console and PC owners plenty of time to prepare. For PC users, that means looking into capable graphics cards, processors and RAM. This gives PS4 and Xbox One owners time to replay other games in the series or play and delete the games they've already played this holiday season.
Just Cause 3 has roughly the same size world as Just Cause 2, but with more vertical area to play around in. Those play area gains and the open nature of the game means that older consoles aren't able to handle it. Just Cause 3 isn't coming to last generation consoles like the Xbox 360 and PS3; you'll need an Xbox One or PS4.
Just Cause 3 Editions
The different editions coming on Just Cause 3 release day reflect the many ways Xbox One, PS4 get their games. There are multiple versions for users who like collectors items or prefer to buy digitally.
Just Case 3 Day One Edition
For users who want just the game, there's the Day One Edition Just Case 3. It costs $59.99, and includes  3 vehicles that developer Avalanche Studio's has equipped with weapons for use in the game. The Mugello Delphino GLF is a speedboat two mini guns mounted to it. The Urga Pocomaxa X4 Buggy has machine guns built into it. The Kerner Serpente R12 is a ground vehicle with rocket launchers on the hood.
All versions act as entry for the Just Cause 3 Win An Island sweepstakes too. Successfully entering the contest involves racking up enough Chaos Points within the game to beat out all the others participating. Both the Xbox Store and PlayStation Network have digital versions of this edition available in their stores for $59.99.
Just Cause 3 Collector's Edition
The Just Cause 3 Collector's Edition is only for the true, Just Cause fans. It includes some nifty memorabilia to remember the game by. An included artbook details the game's concepts and
original vision. A 24-inch by 24-inch map provides directions and details on the entire island of Medici. Finally, there's a real-life grappling hook on a stand that's inspired by the grappling hook Rico Rodriquez uses in the game. GameStop and Amazon have this version of the game available for $119.99. The Collector's Edition should arrive on the Just Cause 3 release date like every other version of the game.
Just Cause 3 XL Edition 
Just Cause 3 XL Edition comes with the regular pre-order extras given to all plus the content of the Just Cause 3 Season Pass. Purchased separately, the Just Cause 3 Season Pass would cost  $24.99.
Just Cause 3 Pre-Order Extras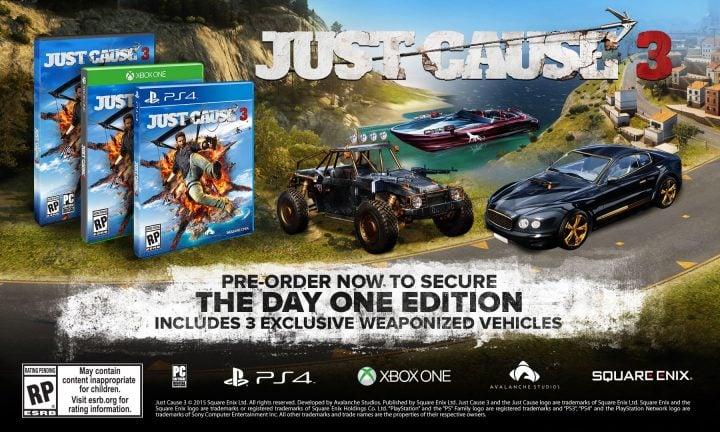 Every game retailer loves to hand out exclusive extras to their shoppers. This gives them a leg up in a market that's already under threat from the rise of digital games. Just Cause 3 may be about toppling the establishment, but publisher Square Enix isn't defying expectations with pre-order extras.
Buy the game at GameStop and you receive a code for an exclusive capstone RPG weapon on your receipt. Microsoft's Xbox Store is offering a free downloadable copy of Just Cause 2 with every digital pre-order it processes. Best Buy says that users who purchase the Xbox One version on disc get the free digital copy of Just Cause 2 also. The PlayStation Store offers a free Just Cause 3 theme for the PS4 and a Final Argument Sniper Rifle to digital buyers.
Just Cause 3 Season Pass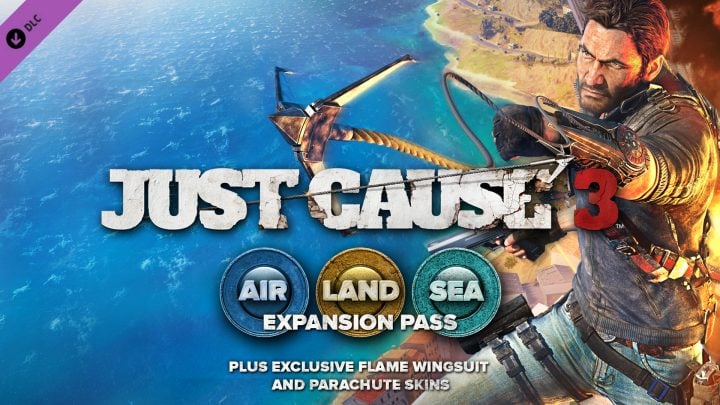 Season Passes allow users to get add-on content for a game they've already purchased, up front. In exchange for handing over money upfront, Season Pass buyers usually get a discount over users who purchase everything extra in pieces. The Just Cause 3 Season Pass costs $24.99 and it'll include 3 different add-on packs.
For now, the only thing we know about the Just Cause 3 Season Pass is that the content it unlocks will come in three separate waves after the game is released: one for land, air and sea. Avalanche Studios is also promising new missions, new enemies and new weapons to take out those new enemy types with.
Good luck with your Just Cause 3 purchase this December. We should learn even more about the game throughout November. Just Cause 3 will be mark the end of the busy fall gaming season.

This article may contain affiliate links. Click here for more details.