Kanex meDrive Gives iOS Users A Local Cloud
Today at CES Kanex debuted its new meDrive, a wireless device that acts as a file server for iOS devices.
The new Kanex meDrive is a small device with one USB port to connect flash drives and external drives, one micro-USB port for charging and one Ethernet port for connecting to a wired network. The device lets users plug in any USB drive and access the files from the drive on an iOS app.
Read more CES 2013 mobile news here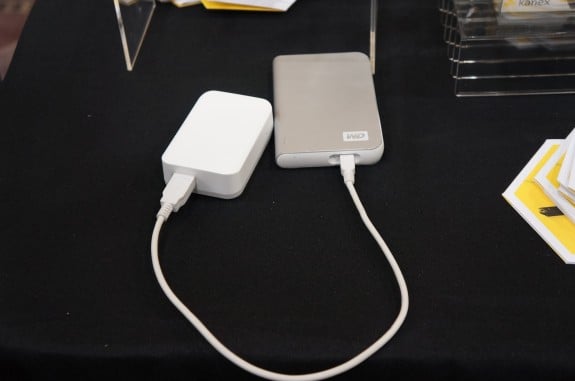 Through the free meDrive File Manager app, the meDrive turns any USB storage device into a local cloud storage option for any iOS device. Users can access almost any files on their USB drives from the app, and export those files in other apps using the "Open In" feature.
The Kanex meDrive will also act as a local WebDAV drive for iOS devices. That means that users working with documents in Apple iWorks apps including Pages, Keynote and Numbers can save their files to drives connected to the meDrive directly from the apps. The feature makes it easier for users to share their files via local drives instead of relying on email or iCloud.
Because the Kanex meDrive connects to any wireless network users on Macs and PCs on the network can access the connected drives as well. That means users can use the meDrive as a small, networked and attached storage drive. With it users can share a number of files between multiple devices without purchasing an expensive drive.
Unfortunately, while both Macs and PCs can connect to the meDrive, Android users cannot access the drives attached to the small device. The only mobile users that can take advantage of the meDrive are those with an iPhone, iPod touch or iPad.
The Kanex meDrive is available now for $99.99 through the company's website as well as major online and retail stores.