Kensington Netbook Power Adapter, Accessories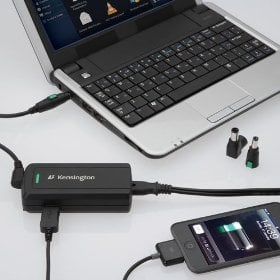 Kensington announced five netbook accessories today, including a pint-sized universal power adapter that includes a USB port for charging your iPod or mobile phone. It's compatible with Acer, Asus, Dell, HP, LG, Lenovo, MSI and Samsung netbooks thanks to interchangeable tips. The Kensington Mobile Power Adapter for Netbooks
is available for $49 from Amazon.com.
Kensington also released a wireless mouse, USB mouse, neoprene sleeve and Kensington lock for netbooks.
All of the accessories are available now for pre-order from Amazon.com. They will be at major retailers by the end of this month.

This article may contain affiliate links. Click here for more details.