Key GTA Online Lowriders Update Details Revealed
The Lowriders Update that video game developer Rockstar revealed last week for Microsoft's Xbox One and Sony's PS4 gaming consoles is ready for gamers to download right now.
Rockstar announced that the Lowriders Update is ready for users to download in a post on its Rockstar Newswire website just moments ago. The studio revealed the Lowriders Update last week for those who own GTA 5 and play GTA Online. GTA Online is the multiplayer experience that comes bundled with every copy of GTA 5. Last year Rockstar released upgraded and remastered versions of GTA 5 for Windows PCs, the Xbox One and the PS4. The Lowriders update is all about adding new car customization options and a few new weapons to the GTA Online experience.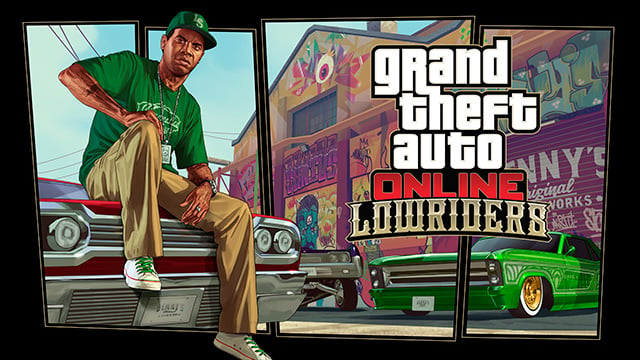 Benny's Original Motor works is the new body shop that GTA Online players can head to for the latest in classic car customization. The shop joins the Los Santos Customs shops that are available in the game experience already. This new shop is on Strawberry Street near the Freeway. Users can get new paint jobs, hydraulics, engines, steering wheels, rims tires, gear shift levers, horns, bobble heads, vanity plates, plat holders, sound systems and other details. Unfortunately, the shop won't take just in in-game car for add-ons and extras.
Two new cars are joining the line-up of automobiles, helicopters, boats and scooters available in GTA Online. The first is the Moonbeam, a van that apparently lets other players shoot things from its covered back payload bay. The Willard Faction is a low-rider car that can be customized at Benny's.
Of course, the backbone of the GTA Online and GTA 5 experience is missions and weapons. Having nice looking cars is great, but not having anything new to do with them would be an issue. Thankfully, Rockstar delivers these with the Lowriders Update in spectacular form.
Lamar, who many will remember from their stint boosting cars with him in the story experience, is planning on trying to conquer the "Lowrider scene." To pull off the feat he's tasking players and their teams with taking out rival gangs scattered throughout the state of Los Santos. In total the Lamar Missions offer eight new missions to take on in the game. That's excluding the contact missions, online heists and events that already populate the experience.
Three new Adversary Modes provide GTA Online players a bit of variety, besides the new contact missions. Rockstar has added a scene creator with more props to the Rockstar Editor, its dedicated tool for directing and recording video within GTA Online. Players can add a fourth property to their holdings. There are new accessories and clothing to match the new Lowrider vehicles that are included in the update. GTA Online no longer forces players through races if they want to get some performance updates for their vehicle.
There's another big add-on stuffed into the Lowriders Update for GTA Online too. Now players can have their characters get out of their car and still show off their mods. Rockstar calls this the new Personal Vehicle Remote. Users can open their trunk, doors and hoods. Remote starters and control for radios is also featured.
Anyone with GTA 5 installed on their Xbox One or PS4 should get the update installed if they have automatic updates enabled. Those who don't will get prompted to download the Lowriders Update the moment they connect to Xbox Live or the PlayStation Network and start the game.  All GTA 5 updates are free – that includes this update.
Unfortunately, owners of Microsoft's Xbox 360 and Sony's PS3 are out of luck. Rockstar has not announced any plans to bring the Lowriders Update to older consoles. Furthermore, it's said publicly that those versions of the game have reached their limits in terms of new content.

As an Amazon Associate I earn from qualifying purchases.