Key Xbox One Exclusive Is Possibly Headed to the PS4
Titanfall 2, a follow-up to the 2014 game that launched exclusively on Microsoft's Xbox One video game console, could definitely be coming to Sony's PS4. At least, that's what happening if comments made by executives from Electronic Arts, the franchise's publisher, are indicative of future Titanfall 2 plans.
Chief Financial Officer Blake Jorgensen told attendees at Stifel 2014 Technology & Media Conference that Titanfall 2 would "probably" happen and that it'd be available on more than just Microsoft's Xbox One and Xbox 360 consoles.
"Last year it was on the Xbox Only; in the future, we haven't yet announced, but we'll probably, have another Titanfall game. It will probably be a bigger footprint than just a single platform. I think that's a huge positive for us," Jorgensen said, according to IGN.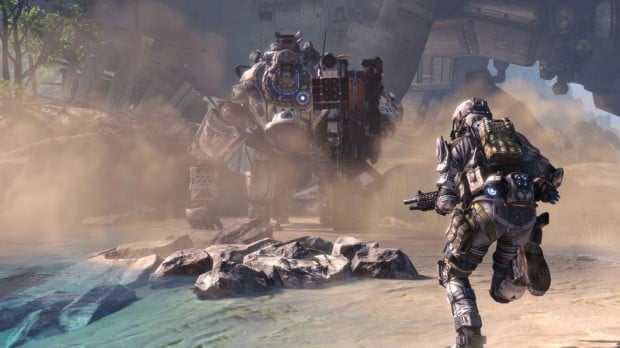 A Titanfall 2 arriving on consoles other than Microsoft's is a pretty big deal. Early in its development, Microsoft locked down the original Titanfall as a launch tittle for the Xbox One. Being a launch title guaranteed developer Respawn Entertainment would get every opportunity to push their game in advertisements with the console and online. It also meant that Xbox One buyers had a big name first-person shooter to look forward to exclusively for their console. Exclusives are how Sony, Microsoft and Nintendo lure users into purchasing their devices instead of someone else's.
Titanfall ended up getting delayed until March of last year. That put it just past the launch window for the Xbox One. If Electronic Arts is already hinting at cross-platform Titanfall 2 than the exclusivity agreement they had with Microsoft must have only covered the first entry in the title. Titanfall coming to other consoles is a big deal. For a franchise in it's infancy that took chances, buzz for the game was high.
Titanfall is arena shooting at its most purest form. There isn't a single player experience. There is a story, but it's not really a focus of the game. In fact, the only story players get in the game are a few cut scenes and voice overs. Instead, Titanfall players are dropped into a battlefield along with computer-controlled soldiers and other players. Game modes include a kill-everything-walking round that's very similar to Halo's classic Slayer Mode. There's also a mode that involves capturing users territory and holding on to it.
To make all of this interesting, players – called pilots – can call on giant mechanized robots that they've custom fitted with rail guns, missile launchers and nuclear weapons rigged to explode when they're destroyed. These Titans are used as power-ups. They can't be called on into users have racked up enough kills or enough time as passed. The Titans in Titanfall are unique. There's nothing like them available in other games. The Titanfall experience is made more dynamic by the mobility of the pilots themselves. Players can run along on walls and use jetpacks to jump higher than any normal human could. The maps included in the game play to these strengths. Since launch, Respawn has added new game modes and settings absolutely free.
Titanfall for the Xbox One is $19.99 at GameStop pre-owned. Titanfall for the PC is $19.99. The Xbox 360 version of Titanfall is selling for $24.99.
To be clear, beyond these comments Electronic Arts and Respawn Entertainment haven't shared any possible Titanfall 2 details. We don't know when the game might arrive on store shelves. We also don't know about any possible character upgrades, maps and features that might come with a possible Titanfall 2. Respawn Entertainment has confirmed that its gone back to work. Microsoft hasn't publicly commented on the agreement that originally brought Titanfall to the Xbox One, Xbox 360 and PC exclusively. The company hasn't commented on rumors of Titanfall running on the PS4 either.