Keyboard for iPhone Misses the Point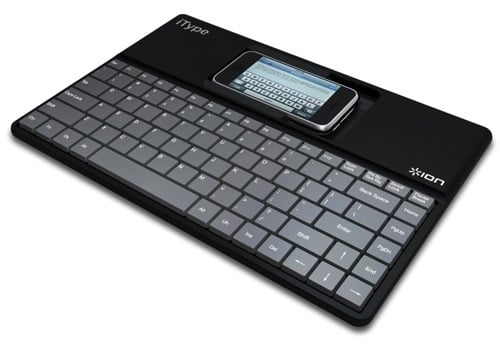 Rob Bushway is twittering that he wants this keyboard for the iPhone that has surfaced at CES2010. I think he's lost some of his mobile mojo. Made by Ion, the iType keyboard lets you insert the iPhone into the keyboard and well, do what you do with keyboards. Ion does a similar thing with music keyboards and for that this form factor makes some sense. But, I don't buy it for data input into a pocket device.
As for me, I'm still waiting for Apple to figure out Bluetooth and provide a driver for portable keyboards. I don't see the need for one often, but every once in awhile I'd love to be able to pull an iGo Stowaway keyboard out of my pocket and do this. Ah, the days when life was simpler with Windows Mobile.
Via Reg Hardware