Kickstarter Goes Mobile With New iPhone App
Today Kickstarter released its own iPhone app to let users easily discover new projects, back projects and view backer updates from their phone. Users can also easily hunt for individual projects, search through categories and find projects near them
For most users the new Kickstarter app is an easier way to discover new projects on the iPhone. The app makes it easy to watch videos for new projects and read about them without panning and zooming around the project page in Mobile Safari. The app streamlines everything from the Kickstarter website for the iPhone, making it all easier to read.
After backing a project, users can view all project updates from the Kickstarter app, making them easier to read than through the website or via email. The Kickstarter app will also alert users of new project updates via push notifications, so users will always know when a project creator is informing them of the project's progress.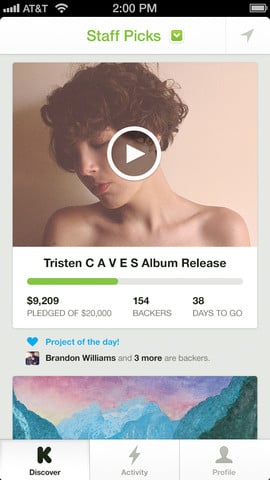 The Kickstarter app is useful for project creators as well. Through the app, project creators can track the progress of their project from anywhere. It's perfect for creators who obsess over their progress but aren't always near a computer to check. The app will also let project creators update their backers through the app. That makes it easy to write updates quickly from anywhere.
The new app is incredibly useful for users who back a lot of projects through Kickstarter. The app means they can keep their email inbox less cluttered with updates, and it means they can search through new projects anywhere. It's easier to use than the service's website on a mobile browser, and arguably easier than using the website on a desktop computer.
The Kickstarter app is available for free in the iOS App Store. There's no word on an Android version of the app.

As an Amazon Associate I earn from qualifying purchases.