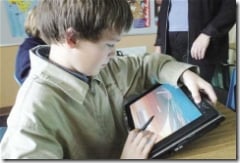 Looks like Tablet PCs are quite the hit at the Berwick Academy in South Berwick, Maine.
Just as a I came across this article, I was beginning to map out a special InkShow with my daughter, Maggie. Of all of our kids, she loves using her Tablet PC the most. In fact, with the brain injuries she has had, her doctors and therapists have actually suggested that drawing and interacting with a pen based computer actually helps her to learn better. She finds it relaxing and soothing as well. Another story and InkShow for another day.
Here is a snippet on the Berwick Academy story from the SeacoastOnline – good reading.
In a seventh-grade humanities class at Berwick Academy, students focused intently on their geography research projects. Rather than textbooks and lined paper, students had tablet computers on their desks, enabling them to access online reports and data. Some students read text and looked at maps or made notes on the screens that later became part of their reports.
A tablet PC (personal computer) is like a normal laptop computer, but it has ink-enabled applications that allow the user to write on the tablet screen using a stylus pen. The academy is the first school in Maine to adopt the technology, according to the school's Web site.
According to Wendy Harrington, Berwick Academy's director of technology, students take notes in longhand, draw, make musical notations on the tablet screen, create charts and graphs, all of which can be saved and transmitted.

As an Amazon Associate I earn from qualifying purchases.